Black Women in the Archives
Click the link to visit the Poetry Center Digital Archive, a project of The Poetry Center at San Francisco State University to access the recordings: https://diva.sfsu.edu/collections/poetrycenter/12628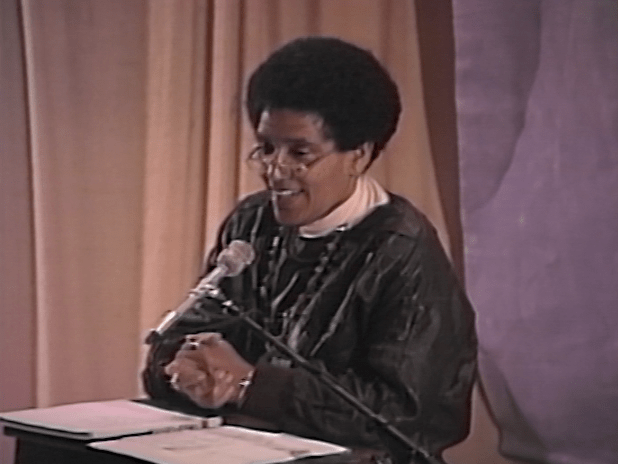 Selected by Arisa White, this group of historic recordings features, in alphabetical order, original Poetry Center readings by Ai, Maya Angelou, Gwendolyn Brooks, Lucille Clifton, Jayne Cortez, Wanda Coleman, Audre Lorde, June Jordan, and Pat Parker. Fourteen featured recordings of nine poets range across four decades—from October 1971, as Maya Angelou reads and remarks on her poems collected after the grand success of her autobiography, I Know the Caged Bird Sings, to April 2013, when Wanda Coleman in one of the last public appearances of her life reads from her Poetry Center Book Award book, The World Falls Away. The entirety makes up a singular curriculum for study.
"Watching these videos," Arisa White writes in her piece "In Praise of Our Black Women Poets" at LitHub, "I entered into a different geological layer within myself. It wasn't lost on me that the recordings I wanted digitized were from the decades of my birth, childhood, and adolescence. The way these poets occupied space and time was a home-return to rooms that were my own and also part of the grand room of black women poetry. The houses that their poems built offered ways to construct particular experiences and enabled me to have a sense of the future: a future for my poetry…. I wanted others to have access to their presence, to know the poem's primary sounding, the wisdom they'd shared—just seeing how they shaped the space around them would lend a deeper understanding to the architecture of their poems. I decided to focus the digital collection on the black women who had died."
Two of these recordings, of Angelou in 1971 and of Gwendolyn Brooks in 1997, appear as audio only. Four of the writers—Audre Lorde, Jayne Cortez, June Jordan, Wanda Coleman—are represented in more than one instance. Video recordings have been adapted from magnetic tape originals, in various formats, to digital media by BAVC, the Bay Area Video Coalition, via its Preservation Access Program, and by staff at SF State's DIVA, Digital Information Virtual Archive. The Poetry Center is grateful to each of these institutions, and especially to Arisa White for her dedicated and joyful labors assembling this selection, during her weeks as Poetry Center Scholar in Residence, Spring 2016. Please read her full essay here, as well as her intensive reflection on her local research for the project, "Walking the East Bay in the Footsteps of Maya Angelou, June Jordan & Pat Parker," at Electric Lit.
Detailed cataloging by Poetry Center staff, with thanks to Elise Ficarra, Dan-Tran Cong-Huyen, Kayle Frayre, and Ai Ebashi. These works are made publicly available under a Creative Commons Attribution- Non Commercial- ShareAlike 3.0 Unported License. For all other uses please email The Poetry Center.