Post Pardon: The Opera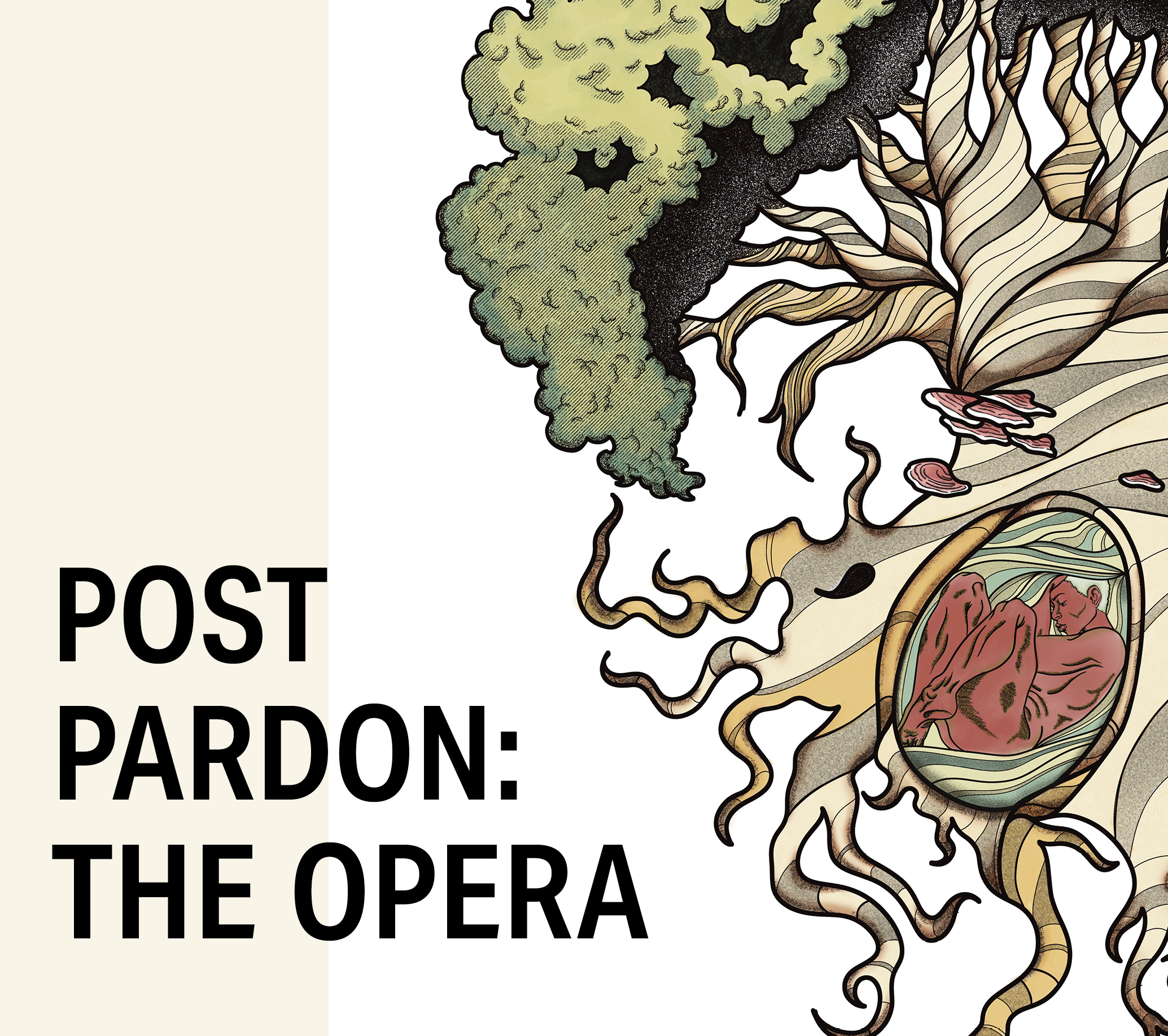 Post Pardon: The Opera was initially supported by a Cultural Funding Grant from the City of Oakland, CA, in 2013-14, to create the libretto and score. The creative team includes me, librettist, composer Jessica Jones, director Ellen Sebastian Chang, set designer and installation artist Dianne Smith, choreographer Laurel Jenkins, and general manager Charlotte Tiencken. Now in its developmental stage, with funding from Colby College, The Haynesville Project, The Carter Family, SPACE Gallery, New England Humanities Consortium, and the Cave Canem Foundation,  Post Pardon: The Opera will premiere in 2025 at the Gordon Center for Creative and Performing Arts in Waterville, Maine.
Post Pardon: The Opera is an Afro-speculative transgenerational apology. Set between the material and spiritual worlds, Willow, a queer activist is confronted with the ghost of her estranged mother who committed murder-suicide. Willow is guided by The Sistas, empowered by the eco-activist group Black Azaleas, and inspired by Rosa's love as she embraces the multiplicities of death. With its concern for gendered and ecological violence, Post Pardon: The Opera is a lyrical and mythical world splitting open with a Black-woman sound.
Adapted from my eponymous poetry chapbook, published by Mouthfeel Press in 2011, Post Pardon was inspired by poet Reetika Vazirani who killed her two-year-old son and then took her own life in the summer of 2003. I was struck by these events, having met Vazirani and Jehan Komunyakaa a few weeks before their deaths. As a device to non-judgmentally enter the interior landscape of a woman who contemplates murder-suicide, the poetry collection employs Caribbean mythologies and West African cosmologies to explore the concept of inherited sorrow.
Composer Jessica Jones and I are approaching opera not as a fixed elitist form, but as a living genre with a deep history and ample room for experimentation. Opera is an immersive experience and its ability to move the soul is inescapable—and Post Pardon is soul work. Our collective consciousness needs a narrative that opens us up to an interconnected understanding of who we are and our shared purpose. Opera as a form is the necessary volume to bring from margin to center the voices not heard.
The music for Post Pardon is, first and foremost, a reflection of the libretto's rhythm, tone, and emotional content. It is influenced by avant-garde improv, Buddhist and Hebrew chants, field hollers, and musicians such as Ornette Coleman, Abdullah Ibrahim, Roberta Flack, Sweet Honey in the Rock, the sweeping arpeggios and impressionistic impact of Debussy, as well as Romantic era composers, and the spectrum of jazz in the last century.
To learn more about the first iteration of the opera, visit: postpardontheopera.wordpress.com.
Selected Press
September 13, 2023 | MARKETPLACE
Investments in the arts could turn around Waterville, Maine's economy
July 13, 2023 | COLBY News
Arisa White's Powerful New Opera
July 20, 2014 | The Daily Californian
Mythology and poetry unmask death in "Post Pardon: The Opera"
Process Notes
The elements that moved me to write Post Pardon–yes, there are fairies involved!