Post Pardon: The Opera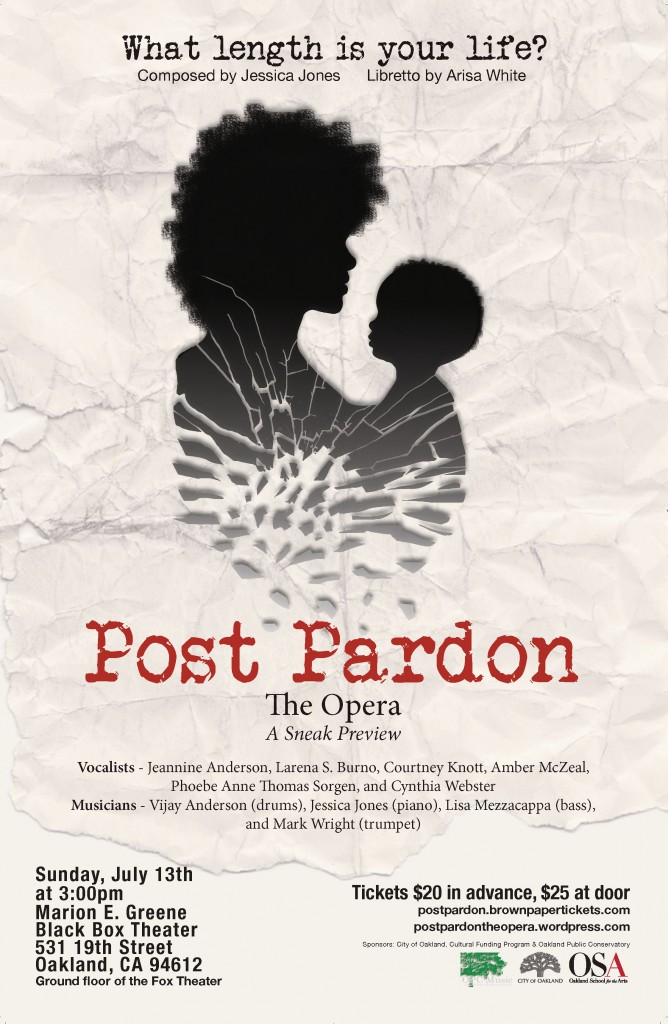 Post Pardon: The Opera, which is supported by a Cultural Funding Grant from the City of Oakland for the creation of the libretto and score, is a collaborative musical production by Oakland-based poet and playwright Arisa White with tenor saxophonist and composer Jessica Jones who is based in New York City.
The libretto is an adaptation of the poetry collection, Post Pardon, written by White, which, through the use of Caribbean and Greek mythologies, explores the interior landscape of an African American woman who contemplates life: the taking of her own and that of her only child.
Based on White's encounter with poet Reetika Vazirani, while on a writing retreat for African diaspora poets in summer 2003, she interacted with both Vazirani and her son three weeks prior to their murder-suicide, which was reported in The Washington Post. For months, White wondered: "Why would a mother kill her child then herself? What are the conditions that create this phenomenon?"
Post Pardon is a layering of four distinct voices. White wanted to create in Post Pardon a feeling of an echo, a splintering of the self into many, to illustrate that in the head is housed a chorus.
With Post Pardon: The Opera, Jones takes the written word to a heightened level of expression by articulating the nonverbal qualities of grief, loss, and strife. Many genres of music are incorporated on this empathetic journey through a mythical narrative, rooted in an urban space, that addresses the notion of inherited sorrows.
To learn more, visit: postpardontheopera.wordpress.com.
Selected Press
July 20, 2014 | The Daily Californian
Mythology and poetry unmask death in "Post Pardon: The Opera"
June 17, 2014 | Theatre Bay Area
Praxis: Poetry becomes opera with Arisa White's "Post Pardon"
Process Notes
The elements that moved me to write Post Pardon–yes, there are fairies involved!