Check out this most recent write-up about the dear Gerald project at PANK.
Are you estranged from your father? Or fatherless? Have you ever thought about writing a letter to him? I'm asking people to submit letters addressed to their fathers or patriarchal authority figures, and in exchange, I will give you a copy of dear Gerald, a collection of 33 epistolary poems.
Books will be given away, free of charge, on a first-come, first-served basis. I have 100 copies of the book to give away, and 33 (or more) letters will be selected as inspiration for a later collection, which I am considering to title Who's Your Daddy? Possible ways I may use participants' letters: mash-ups, where I combine the letter with other texts to make one poem; erasures, where I remove text, while leaving behind particular words to reveal the poem within; or a direct response to the letter, as if I am the father.
I've been working on the dear Gerald collection for two years, starting when my mother asked if I wanted to write my father in Guyana—I haven't seen him since I was three years old. A grant from the Center of Cultural Innovation will fund the publication of the book, as well as trip to South America, where I will give him a copy of the collection.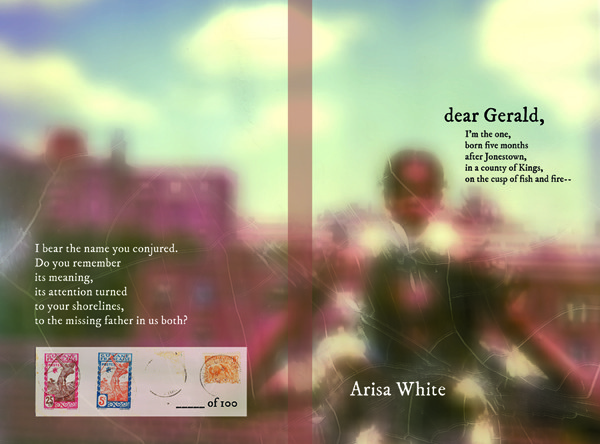 Many folks have stories and unresolved pain associated with fatherlessness. This gave me the idea to invite people to write letters to the fathers they do not know, who left them, who have not taken part in their lives.
There is always that suspicion you are alone. You are the only one who didn't grow up with a father, and the shame of it consumes, even in small and unconscious ways. To share this work with the community is to push this conversation forward, to lessen the stigma of being a bastard, abandoned, forgotten, or never considered by one's father, and to individually and collectively evolve into healing action. dear Gerald brings attention to the difficult bridges we must cross to get to a deeper understanding of who we are.
GUIDELINES: Letters written to your father or patriarchal authority figure can be creative, lyrical, or visual—it's open to your interpretation. There's no word limit, but if you need one, letters cannot exceed 5 pages. I ask that you formally begin the letter with "dear," followed by your father's name, and end the letter with a closing (i.e. Truly, Arisa).
DEADLINE: February 1, 2015 or until books are given away.
WHERE TO SEND: dearGeraldletters@gmail.com or dearGerald Letters, P.O. Box 12742, Oakland, CA, 94604. Please include your mailing address and a 50-word bio.
Visit atoguyana.wordpress.com for updates on the project.