UPCOMING APPEARANCES
Saturday, January 12, 2019; 2-4pm. BOOK LAUNCH for Biddy Mason Speaks Up. African American Museum and Library at Oakland, 659 14th St, Oakland, CA 94612.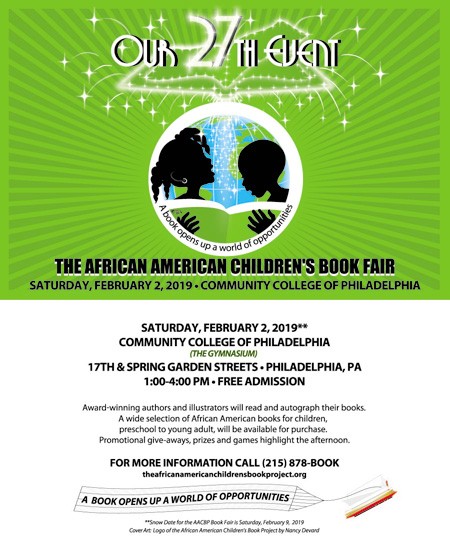 Saturday, February, 2, 2019; 1-4pm. 27th Annual African American Children's Book Fair. Community College of Philadelphia, PA, in the Gymnasium.
Wednesday, March 6, 2019; 5-6pm. Colby College Reading Series. Miller Library, Robinson Room.
March 28-30, 2019; AWP 19 Conference and Bookfair in Portland, Oregon
March 28, 3-4:15p: Panel: Un-Workshop: Towards an Expansive Critical Response For Writers.  (Carson Beker, Nancy Au, Arisa White, Miah Jeffra, Ploi Pirapokin)
March 29, 10-11a: Author Signing of Biddy Mason Speaks Up at Jack Jones Literary Art's Table
March 29, 7-8:30: Crush Bar, 1400 SE Morrison, Portland, OR; Gertrude Literary Journal Reading, featuring Jericho Brown, Wayne Bund, and Arisa White
March 29, 7-9pm: Daedalus Books,

2074 NW Flanders St, Portland, OR 97209
Saturday, April 13, 2019; Juniper Festival Alumni Reading. UMass, Amherst; Old Chapel, 144 Hicks Way, Amherst, MA 01002
April 18-21, 2019; New Orleans Poetry Festival
PAST APPEARANCES
Wednesday, February 7, 2018; 6:30-8pm. Zeitgeist Bay Area: A Reading and Q&A, featuring Michal "MJ" Jones, Nils Michals, Baruch Porras-Hernandez, and Arisa White. Santa Clara University, Wiegand Room, Vari Hall, 500 El Camino Real, Santa Clara, CA
CANCELLED: Friday, March 2, 2018; 7:30pm. Studio One Reading Series, featuring Aja Duncan and Arisa White. Studio One Art Center, 364 45th Street, Oakland, CA
CANCELLED: March 7-10, 2018: AWP Conference & Bookfair in Tampa, Florida. I will be presenting on one panel and participating in two offsite readings:
Thursday, March 8; 7pm. Jaded Ibis Press Reading at Inkwood Books,

1809 N. Tampa Street, Tampa, FL 33602

Friday, March 9. Foglifter Reading, Location and Time TBA
Saturday, March 10; 3-4:15pm. Panel:

Draining The Swamp: Writing as Resistance and Social Responsibility in a Post-Truth Era, Marriott Waterside, Florida Salon 4, 2nd floor
Saturday, March 17, 2018; 7-9pm. Poetry and prose reading with Arisa White, Tommy Pico, Colin Winnette, Charif Shanahan, Luna Caleb, and Jennifer T M. Alley Cat Books, 3036 24th Street, San Francisc, CA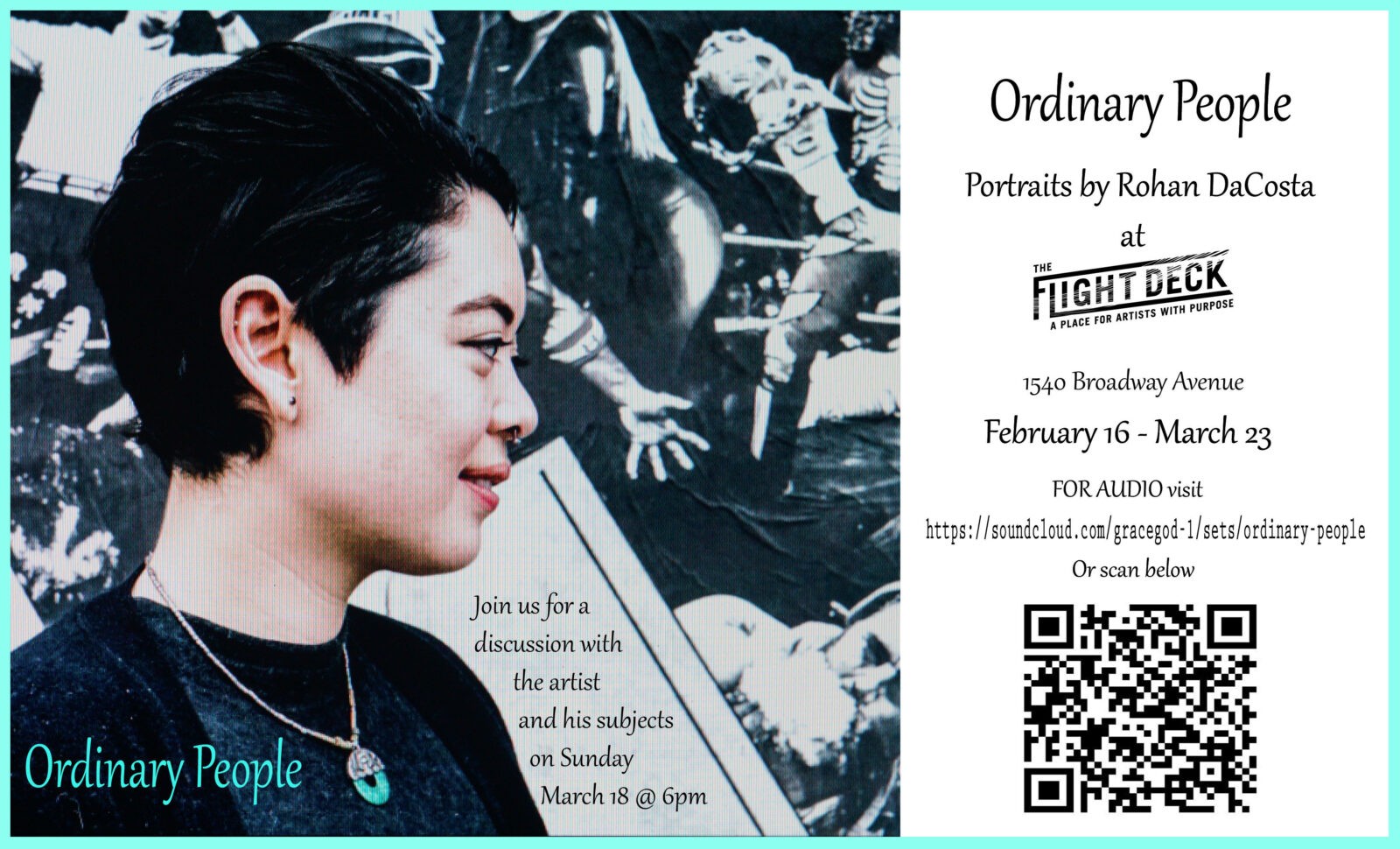 Sunday, March 18, 2018; 6-8pm. Ordinary People: Portraits by Rohan DaCosta; Artist Talk with DaCosta and his photographic subjects. The Flight Deck, 1540 Broadway, Oakland, CA 94612
Saturday, April 7, 2018; 6:30-8pm. The Parlour Readings: Arisa White, Mount Saint Mary's University, Doheny Campus, Building 10 Parlor, Los Angeles, CA
Wednesday, April 25, 2018; 7:30-9pm. BINDERY: The Others: A Dramatic Reading with Mattew Rohrer & Special Guests (Daniel Handler, Arisa White, Bridgette Quinn, and Matthew Zapruder). Booksmith, 1644 Haight Street, San Francisco, CA http://www.booksmith.com/event/bindery-others-dramatic-reading-matthew-rohrer-special-guests
Thursday, April 26, 2018; 7-9pm. Poetry Flash presents Maw Shein Win & Arisa White, in celebration of Win's debut collection INVISIBLE GIFTS. Moe's Books, 2476 Telegraph Avenue, Berkeley, CA  http://www.moesbooks.com/events/#apr26
Thursday, May 10, 2018; 6:30-9pm. Poetry@BCC, featuring Arisa White and T.S. Walker and Open Mic. Berkeley City College, Auditorium, 2050 Center Street, Berkeley.
Friday, May 11, 2018; 7-9pm. Poetry World Series: 7th Annual Mill Valley Edition: Emceed by the incomparable Daniel Handler! Two teams of Bay Area poets–Kai Carlson-Wee, Marcelo Hernandez Castillo, Tongo Eisen-Martin, Maw Shein Win, Arisa White, and Kathleen Winter–take turns batting at poem topics pitched to them by the audience. Mill Valley Public Library, 375 Throckmorton Ave, Mill Valley CA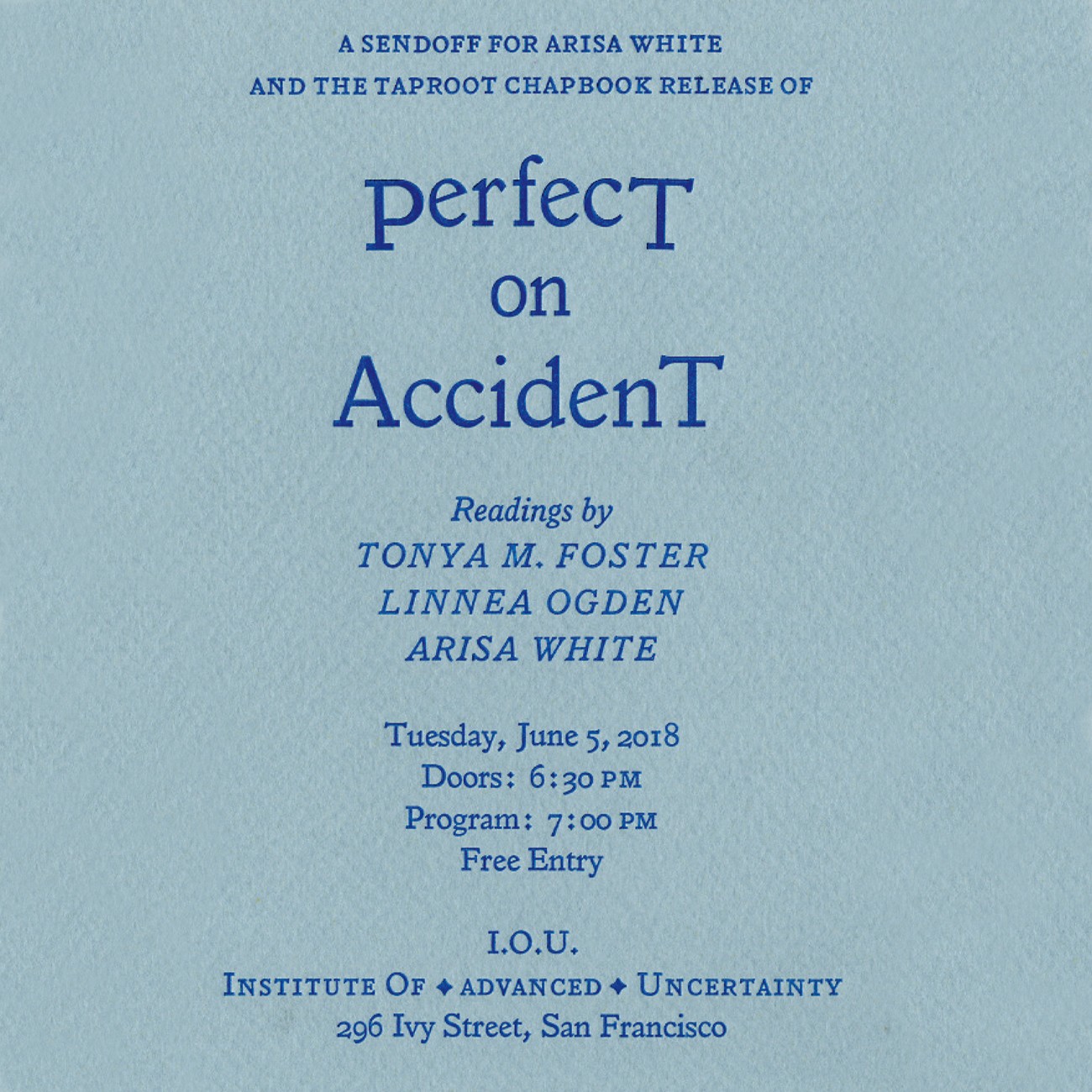 Tuesday, June 5, 2018; 6:30pm. Hosted by I.O.U: Celebrate the release of PERFECT ON ACCIDENT by Arisa White, with readings by Tonya M. Foster and Linnea Ogden. 296 Ivy Street, San Francisco.
Thursday, June 7, 2018; 6-9pm. RADAR Productions, featuring Arisa White, Grace Towers, Brontez Purnell, and Jewelle Gomez. First 40 people to arrive get a tiara! Koret Auditorium at the San Francisco Public Library, 100 Larkin Street.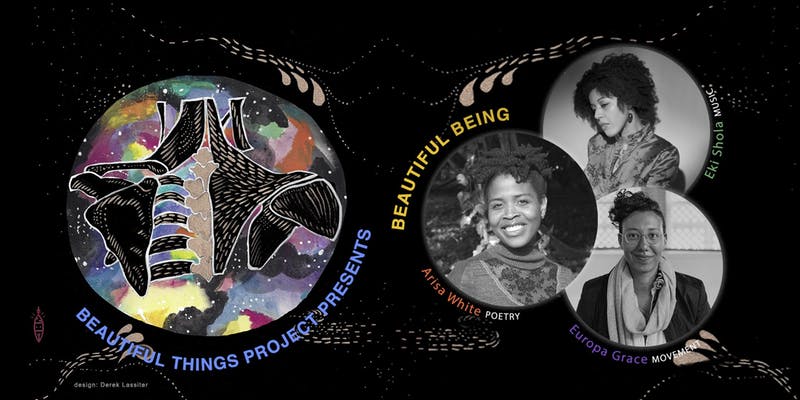 Sunday, June 17, 2018; 1-3pm. National Queer Arts Festival 2018: BEAUTIFUL BEING: A Choreopoem. Talkback with audience members follows the performance. Humanist Hall, 390 27th Street, Oakland, CA. Tickets $15-25. Purchase tickets at Eventbrite: https://www.eventbrite.com/e/beautiful-being-tickets-45225816635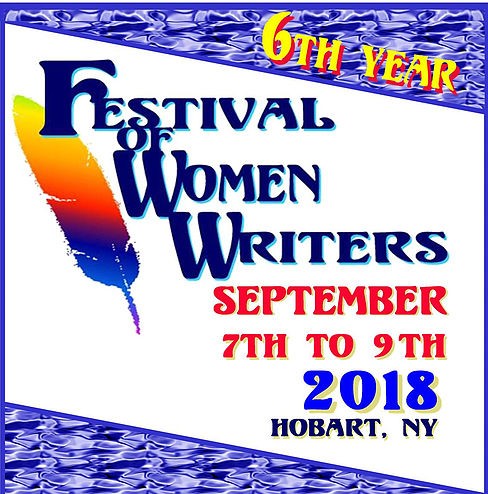 September 7-8, 2018: Hobart Festival of Women Writers, Hobart, NY. A weekend for all, celebrating and exploring the writing of women writers, set in the picturesque northern Catskills. As one of the participating writers this year, I was interviewed for the Festival's blog; read it here.
Sept 7: 1:45-2:45pm–Reading with Lisa Wujnovich, Keisha Gaye-Anderson, and Nana Ekua Brew-Hammond; Hobart Community Center, 80 Cornell Ave.
Sept 8: 1:45-3:45pm–Workshop "Metaphor is Magic"; location TBA:  The poet Annie Finch says that "magic is the art of changing consciousness at will"; and the metaphor shifts how we perceive, and become aware of, our surroundings. It has the ability to refresh language and make it living; it makes visible the interconnectedness of all things; and when rendered well (serving to illuminate and clarify, versus obfuscate and abstract), the metaphor functions as a portal out of sanctioned boundaries of realities into ways of being that are nuanced and nonlinear. In this workshop, we will explore, through readings and writing exercises, the various ways to wield the metaphor's magic.
CHECK THIS OUT!
Biddy Mason Speaks Up! Receives Starred Kirkus Review!
This book is "a creative act of repairing the historical record, of imagining Biddy Mason's life based on all the information and stories we could gather," explain the co-authors in a preface. Scenes are written in free verse. Each poem is followed by information about Biddy's world: slavery and midwifery, plantation life and economy, migration, the struggle for freedom, and life as a free black person. . . . Difficult but necessary, inclusive and respectful, this book does a beautiful job of telling truths about our history and how we construct it. Read the complete review here.
Who's Your Daddy? to be published by Augury Books/BAP in Fall 2019!
Arisa White's Who's Your Daddy?, a hybrid memoir combining poetry and creative nonfiction, is a meditation on paternal absences, intergenerational trauma, and toxic masculinity. Who's Your Daddy? asks us to consider how the relationships we are born into can govern us, even through absence, and shape the dynamics we find and forge as we grow. White lyrically moves across distance and time, from Brooklyn to California to Guyana. Her book enacts rituals that plumb the interior reaches of the heart to assemble disconnected and estranged parts into something whole, tender, and strong. Check out the A to Guyana project that inspired the creation of this collection.
Lisa Brown created this sweet illustration of me, which looks like my 16-year-old pensive self.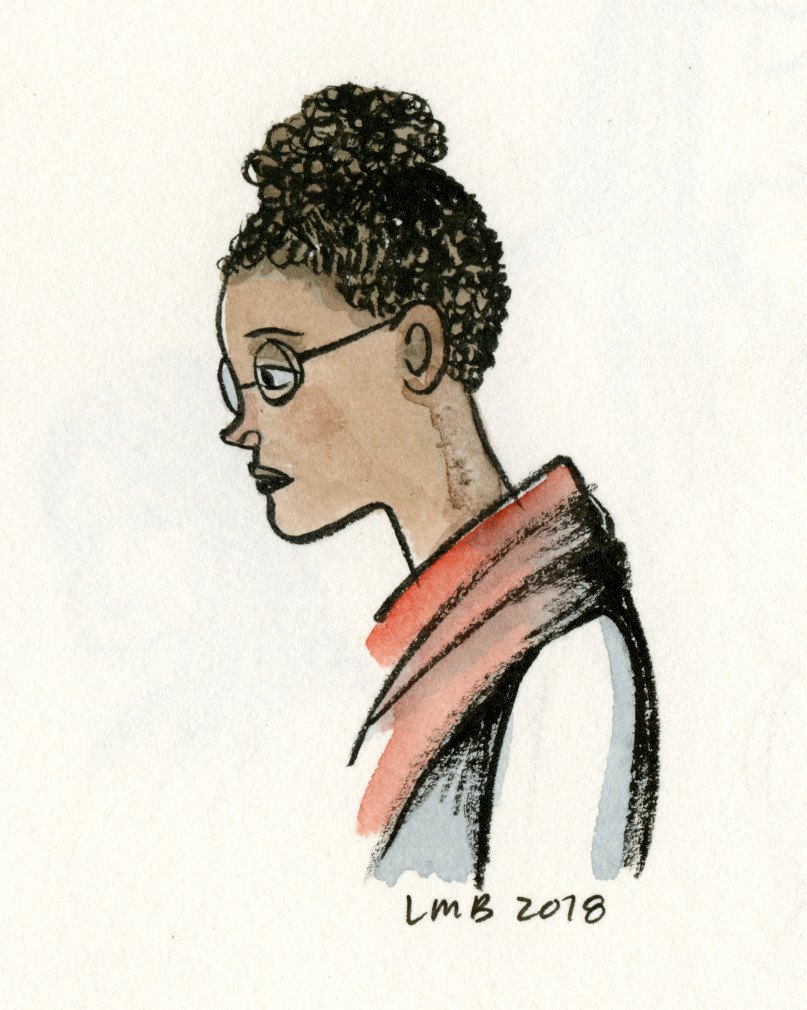 Post Pardon: The Opera | First drafted and partially staged in 2014, I will spend time in residence revising Post Pardon, a libretto inspired by poet Reetika Vazirani who killed her two-year-old son and then took her own life in the summer of 2003.
You're the Most Beautiful Thing That Happened has been chosen to be included on the 2018 Recommended Book List.  This list of outstanding works of literature and nonfiction is intended to promote the improved quality and accessibility of GLBTQ literature through the provision for adult readers of an annual annotated bibliography of books for general readership. The Over the Rainbow (OTR) Project is a committee of the Gay, Lesbian, Bisexual, and Transgender Round Table (GLBTRT) of the American Library Association (ALA).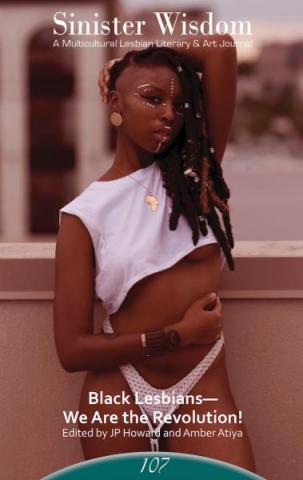 Sinister Wisdom 107: Black Lesbians–We Are the Revolution, edited by JP Howard and Amber Atiya, lifts up the voices of African-American lesbians for us all to hear, see, and know. The creative work in Sinister Wisdom 107: Black Lesbians–We Are the Revolution gathers together new writing by an array of emerging and established black lesbian and queer women writers. Sinister Wisdom 107 invites us all as readers, thinkers, activists, and cultural workers to engage in meaningful and productive ways with the voices and works of African-American lesbians as they write and imagine new worlds
Creative Work By: Pamela Sneed, Charan P. Morris, Nikkya Hargrove, Vanesa Evers, Omotara James, Renée Bess, Cheryl Boyce-Taylor, Arisa White, Cheryl Clarke, Ifalade TaShia Asanti, Linda Bellos, and more! Order here: http://www.sinisterwisdom.org/sw107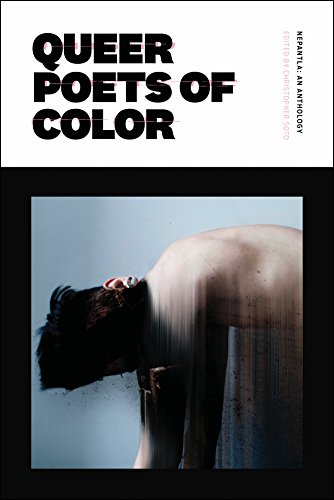 Order this incredible anthology, edited by Christopher Soto, featuring such poets, as myself, literary legends Audre Lorde, James Baldwin, June Jordan, Ai, and Pat Parker alongside contemporaries such as Natalie Diaz, Ocean Vuong, Danez Smith, Joshua Jennifer Espinoza, Robin Coste Lewis, Joy Harjo, Richard Blanco, Erika L. Sanchez, Jericho Brown, Carl Phillips, Tommy Pico, Eduardo C. Corral, Chen Chen, and many more.