UPCOMING APPEARANCES
Saturday, September 14, 2019; 12-4 pm. POEMS INTO CHAPBOOKS: A Poetry Workshop with Arisa White, sponsored by Maine Writers & Publishers Alliance. Members: $50/Nonmember: &105. Register: http://mainewriters.org/poems-into-chapbooks-a-poetry-workshop/
 Saturday, October 12, 2019; 8-9 pm, Phase Three. LIT CRAWL NYC: TWO TATS AND A LIE. Join Kate Angus, Matthew Aaron Goodman, Mike Fu, Clifford Thompson, Jonathan Maunder, Arisa White, and Soma Mei Sheng Frazier for a round of micro-readings. Two readings relate to actual tattoos inked someplace on the readers' bodies, and the rest are a big fat literary lie. The first audience member to raise a hand at the end of the night and guess the two tats correctly wins copies of each author's latest books. Brooklyn Tattoo, 279 Smith Street, Brooklyn, NY 11231
Saturday, October 19, 2019; 6-8 pm. BELFAST POETRY FESTIVAL: Poetry, Performance, and Visual Arts Multimedia–Collaboration with Carolina González Valencia. Troy A. Howard Middle School, 173 Lincolnville Avenue, Belfast, Maine. Visit: http://belfastpoetry.com/
Thursday, October 24, 2019. Guest Speaker at Maine College of Art, Portland Maine.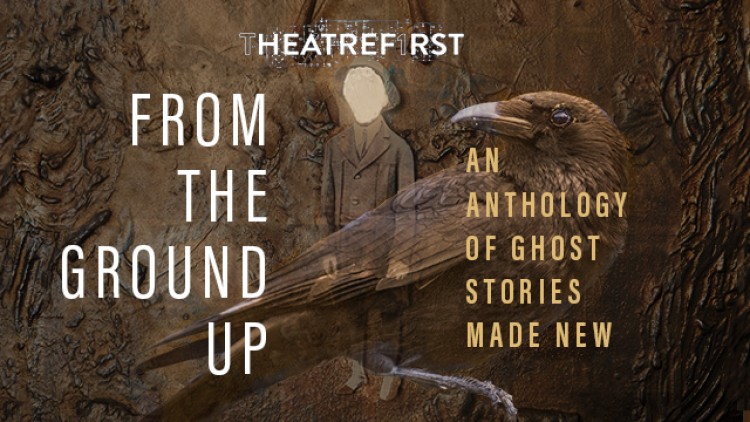 October 30-November 17, 2019. TheatreFIRST Presents From the Ground Up: An Anthology of Ghost Stories Made New By Eugenie Chan, Britney Frazier, Akaina Ghosh, Lisa Marie Rollins, Cleavon Smith, Arisa White, Dan Wolf, and Steve Yockey. Directed by Elizabeth Carter, Cheri Miller, Lauren Spencer, and Kimberly Ridgeway. Eight playwrights reclaim their own histories and bring forward their ghosts with a one-of-a-kind theatrical event. The power of fear will put to the test… in an oversaturated world, can the past move you forward or only hold you back? The Waterfront Playhouse, 2020 Fourth Street, Berkeley, CA; Buy Tickets: https://theatrefirst.com/tickets/
PAST APPEARANCES
Saturday, January 12, 2019; 2-4pm. BOOK LAUNCH for Biddy Mason Speaks Up. African American Museum and Library at Oakland, 659 14th St, Oakland, CA 94612.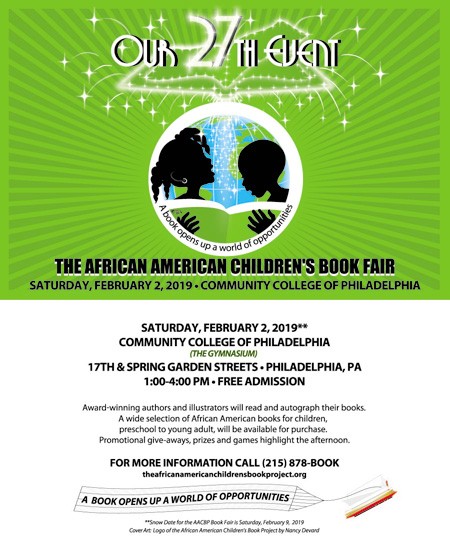 Saturday, February, 2, 2019; 1-4pm. 27th Annual African American Children's Book Fair. Community College of Philadelphia, PA, in the Gymnasium.
Wednesday, March 6, 2019; 5-6pm. Colby College Reading Series. Miller Library, Robinson Room.
March 28-30, 2019; AWP 19 Conference and Bookfair in Portland, Oregon
Thursday, March 28, 11a-12p: Author Signing of Black Pearl at Nomadic Press' Table
Thursday, March 28, 3-4:15p: Panel, E143-144, Level 1: Un-Workshop: Towards an Expansive Critical Response For Writers.  (Carson Beker, Nancy Au, Arisa White, Miah Jeffra, Ploi Pirapokin)
Thursday, March 28, 7-9pm: Reading of authors from Augury Books, Belladonna* & Noemi Presses featuring t'ai freedom ford, Alicia Jo Rabins, Arisa White, Samuel Ace, Caroline Crumpacker, Grace Shuyi Liew, Jessica Rae Bergamino, and Sara Borjas; Studio Faro; 420 SW Washington Street, #302
Friday, March 29, 10-11a: Author Signing of Biddy Mason Speaks Up at Jack Jones Literary Art's Table (#420)
Friday, March 29, 7-8:30p: Gertrude Literary Journal Reading, featuring Jericho Brown, Wayne Bund, and Arisa White; Crush Bar, 1400 SE Morrison, Portland, OR
Thursday, April 11, 2019, 4-6pm: Poetry Workshop with Arisa White at Waterville Public Library. Register here: http://www.watervillelibrary.org/news/article.php?id=665
Saturday, April 13, 2019, 10-11a; Juniper Literary Festival: FROM FANTASY TO SOCIAL JUSTICE: WRITING FOR YOUNGER AUDIENCES: Mira Bartók, Arisa White, and more, moderated by Tiphareth Ananda. https://www.umass.edu/englishmfa/2019-juniper-literary-festival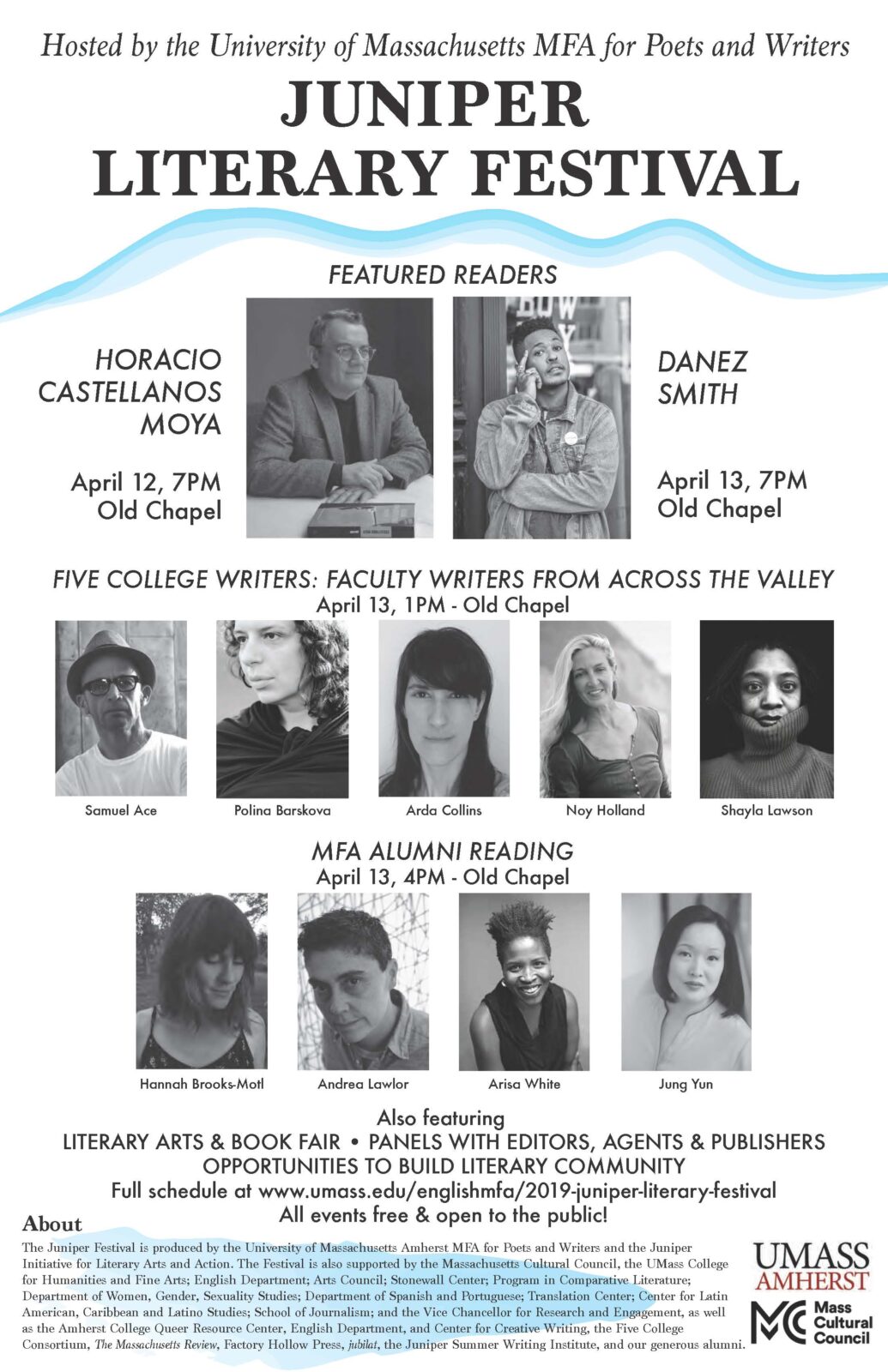 Saturday, April 13, 2019, 4-5pm; Juniper Literary Festival: Alumni Reading, featuring Hannah Brooks-Motl, Andrea Lawlor, Jung Yun, and Arisa White. UMass, Amherst; Old Chapel, 144 Hicks Way, Amherst, MA 01002
Tuesday, April 23, 2019, 7-8:30pm; Roxane Gay: Presence of the Past Keynote, a conversation moderated by Arisa White; Colby College; Lorimer Chapel, 4000 Mayflower Hill; Waterville, Maine 04901. A limited number of tickets will be available to the public Monday, April 22, beginning at 9am and continuing until 4pm or until tickets are gone. Members of the public can pick up tickets on campus in Pulver Pavilion (in Cotter Union). https://www.colby.edu/events/roxane-gay-presence-of-the-past-keynote-speaker/
CHECK THIS OUT!
I'm excited to be co-editing with Miah Jeffra and Monique Mero the anthology HOME IS WHERE YOU QUEER YOUR HEART, which will be published by Foglifter Press prior to the 2020 Presidential election. We are looking for the variant ways queer writers are exploring and defining "home." Deadline: December 1, 2019. Submit here.
I'll admit, I can't tell this timeline straight, because it's been a starburst of a road and there's still a ways to go. But as we celebrate Pride this month, it's important to remember the history — national, global and above all else personal histories — that brought us here. Read the entire article here.
You're the Most Beautiful Thing That Happened appears on this Buzzfeed list of "13 Books by Queer Poets to Add to Your Reading List"
Celebrate National Poetry Month with these evocative, groundbreaking collections. Includes work by Leah Lakshmi Piepzna-Samarasinha, Donika Kelly, Gwen Benaway, and Britteney Black Rose Kapri. Read here.
We were on KQED Forum! Listen here.
FYI: Contrary to what Krasny said, and what the copy description states, Mason did not buy her freedom; a CA court granted it to her. And my co-writer's last name is Atkins, not Watkins. Other than that, it was a fun and fast experience.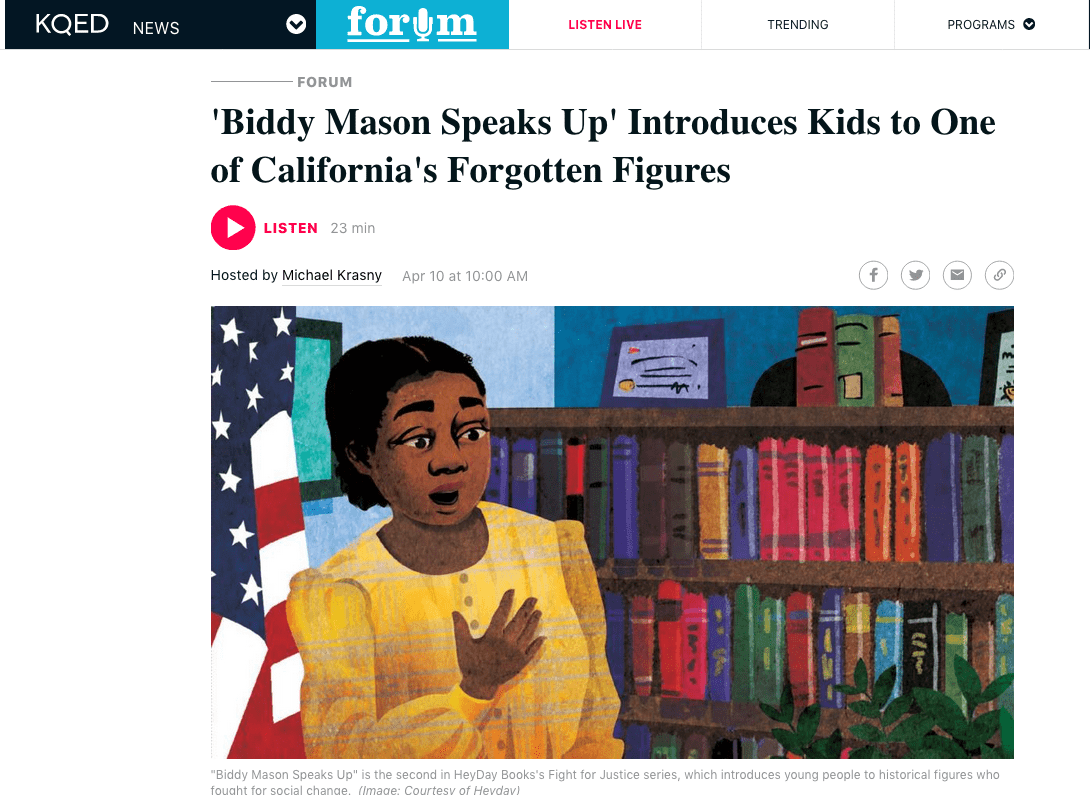 "Ladies Lazarus is a work of creative nonfiction that offers the experience of poetry to me. Language that transports you to a third space, a place where meanings are reconfigured, purged, exhausted, interrogated, mutated to show its multiplicities, where the written word is given new life. Ladies Lazarus has poet's blood running through it." Read the rest here.

Fighting for Justice Series gets a new website!
Wonderfully designed by Jai Arun Ravine, you can now book a school visit with the authors! Visit the site.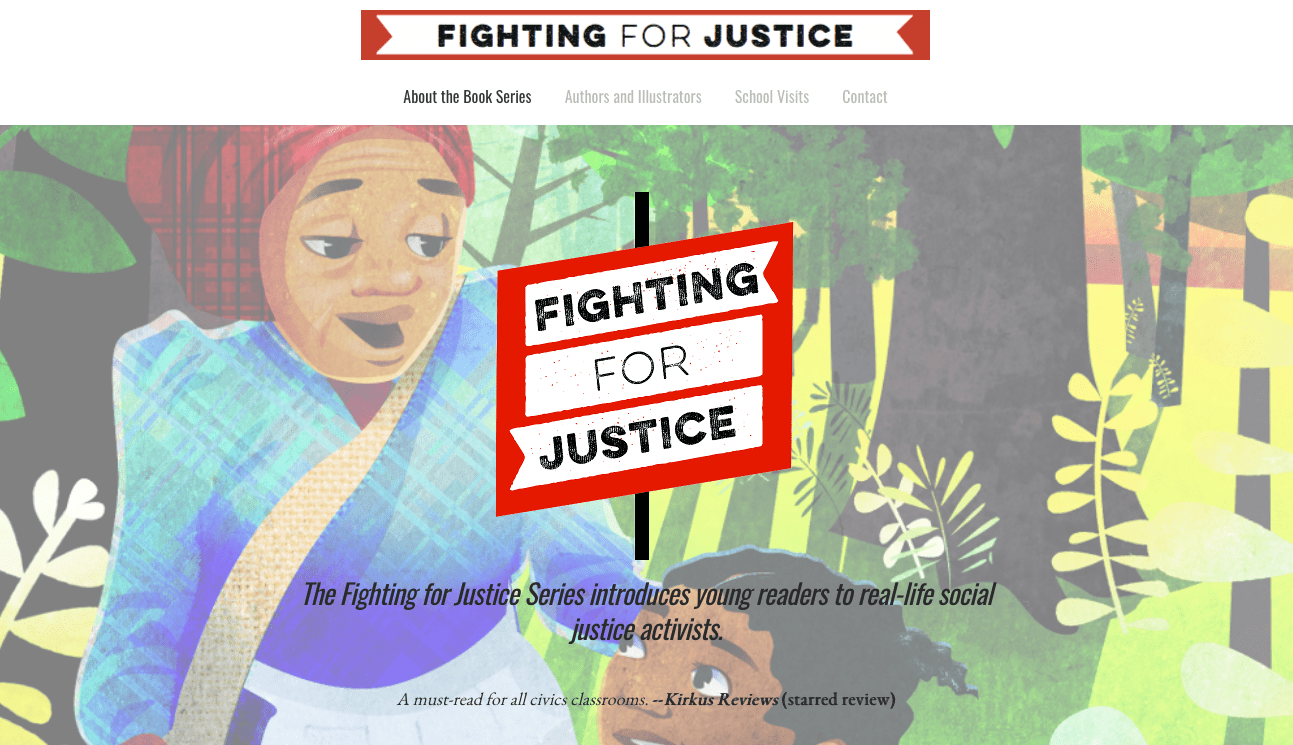 Give it up for Biddy Mason Speaks Up, the latest release in Heyday's Fighting for Justice series profiling superstars of civil rights and social progress for young readers. You should care because this is as impressive a project as you will ever see to potentize history . . . . Read the complete review here.
Biddy Mason Speaks Up! Receives Starred Kirkus Review!
This book is "a creative act of repairing the historical record, of imagining Biddy Mason's life based on all the information and stories we could gather," explain the co-authors in a preface. Scenes are written in free verse. Each poem is followed by information about Biddy's world: slavery and midwifery, plantation life and economy, migration, the struggle for freedom, and life as a free black person. . . . Difficult but necessary, inclusive and respectful, this book does a beautiful job of telling truths about our history and how we construct it. Read the complete review here.