APPEARANCES
Sunday, April 2, 2017, 8PM, Reading with Arisa White and Emerson Whitney, Goddard College, 123 Pitkin Rd, Plainfield, Vermont 05667
Thursday, April 20, 2017, 6:30PM-8:30PM, Conversation With Morgan Parker and Arisa White, presented by Radar Lit Productions at Alley Cat Books, 3036 24th St, San Francisco, CA 94110
PAST APPEARANCES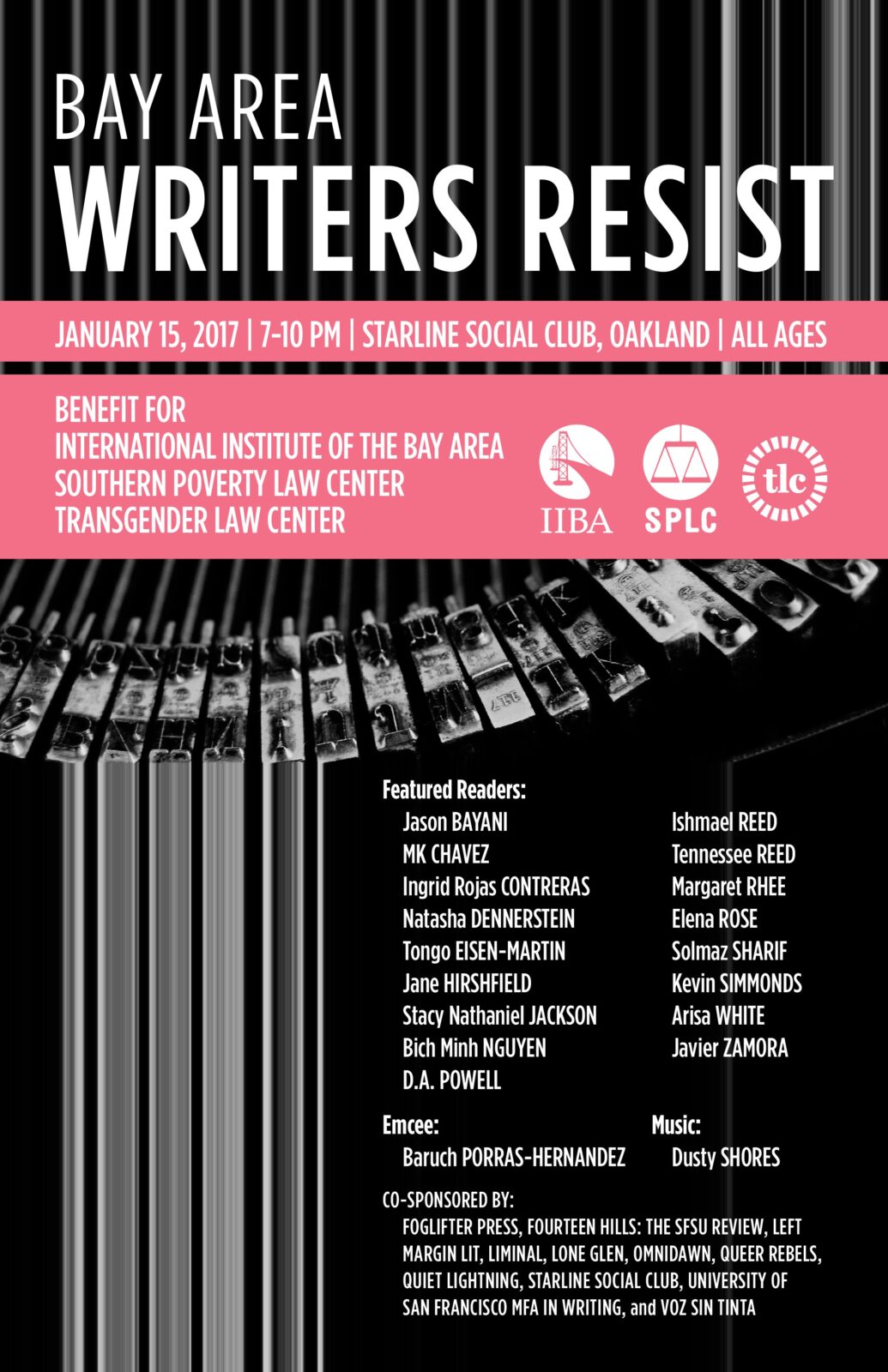 Sunday, January 15, 2017, 7-10PM, Bay Area Writers Resist, Starline Social Club, 2236 Martin Luther King Jr Way, Oakland, California 94612. A night of readings and recommitment to democracy. This event is a benefit for International Institute of the Bay Area, Southern Poverty Law Center, and Transgender Law Center. www.facebook.com/events/1879182968971703/
Tuesday, January 17, 2017, 7-8PM, Queer Words, Folio Books, 3957 24th St. San Francisco, CA 94114. A lineup of local Queer poets and prose-sters: David Hathwell, Richard Loranger, Natasha Dennerstein, and Arisa White. http://foliosf.com/events/
Saturday, January 21, 6:30-9PM, Literary Experiment: Identity Crisis, Octopus Literary Salon, 2101 Webster St @ 22nd, Oakland, California 94612. The social and literary experiment IDENTITY CRISIS, hosted by Paul Corman-Roberts and Youssef Alaoui. Each person reads the next in line. The last person reads the first person's work. No one reads their own. www.facebook.com/events/124363654723640/
Wednesday, January 25, 2017, 7-9PM, $5/10, 21+, A Reading With Arisa White, Natasha Marin, Anastacia Tolbert, and Naa Akua, Fred Wildlife Refuge, 127 Boylston Ave E, Seattle, WA 98102 hugohouse.org/event/reading-arisa-white-anastacia-tolbert-natasha-marin-naa-akua/
Sunday, February 12, 2017, 9a & 11a Services, Performing Black Pearl: Love is Alive with Derek Lassiter, Amber McZeal, and Tammy L. Hall at Heart and Soul Center of Light, 1001- 42nd Street, Suite 100; Oakland, CA 94608
Wednesday, February 15, 2017, 2:30PM. Craft Talk: Queer Imaginary: A Black Female Aesthetic; Hagerty Lounge, De La Salle, Saint Mary's College of California, MFA in Creative Writing, 1928 Saint Mary's Road, PMB 4686, Moraga, CA 94575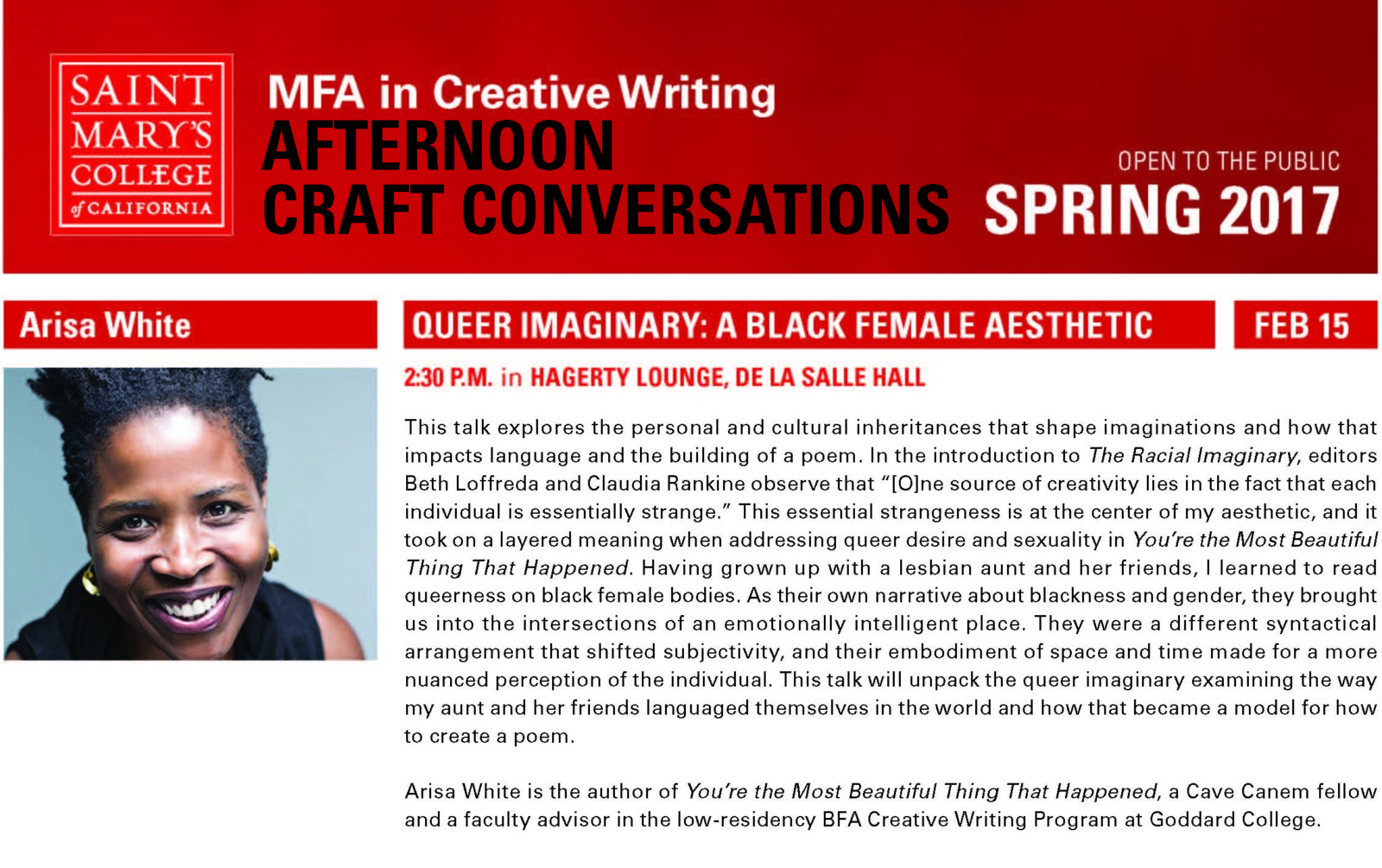 Friday, February 17, 2017, 6:30-8:30PM, Portland State University, Smith Memorial Student Union, Room 294, 1825 SW Broadway, Portland, OR. www.pdx.edu/creative-writing/readings-events   (RESCHEDULED)
Thursday, February 23, 2017, 6:30PM-8:30PM, University of the Pacific, Wendell Phillips Center, Room 140, 1000-1070 Stadium Dr., Stockton, CA. calendar.pacific.edu/event/an_evening_with_arisa_white_poetry_reading#.WJjOgI7If8c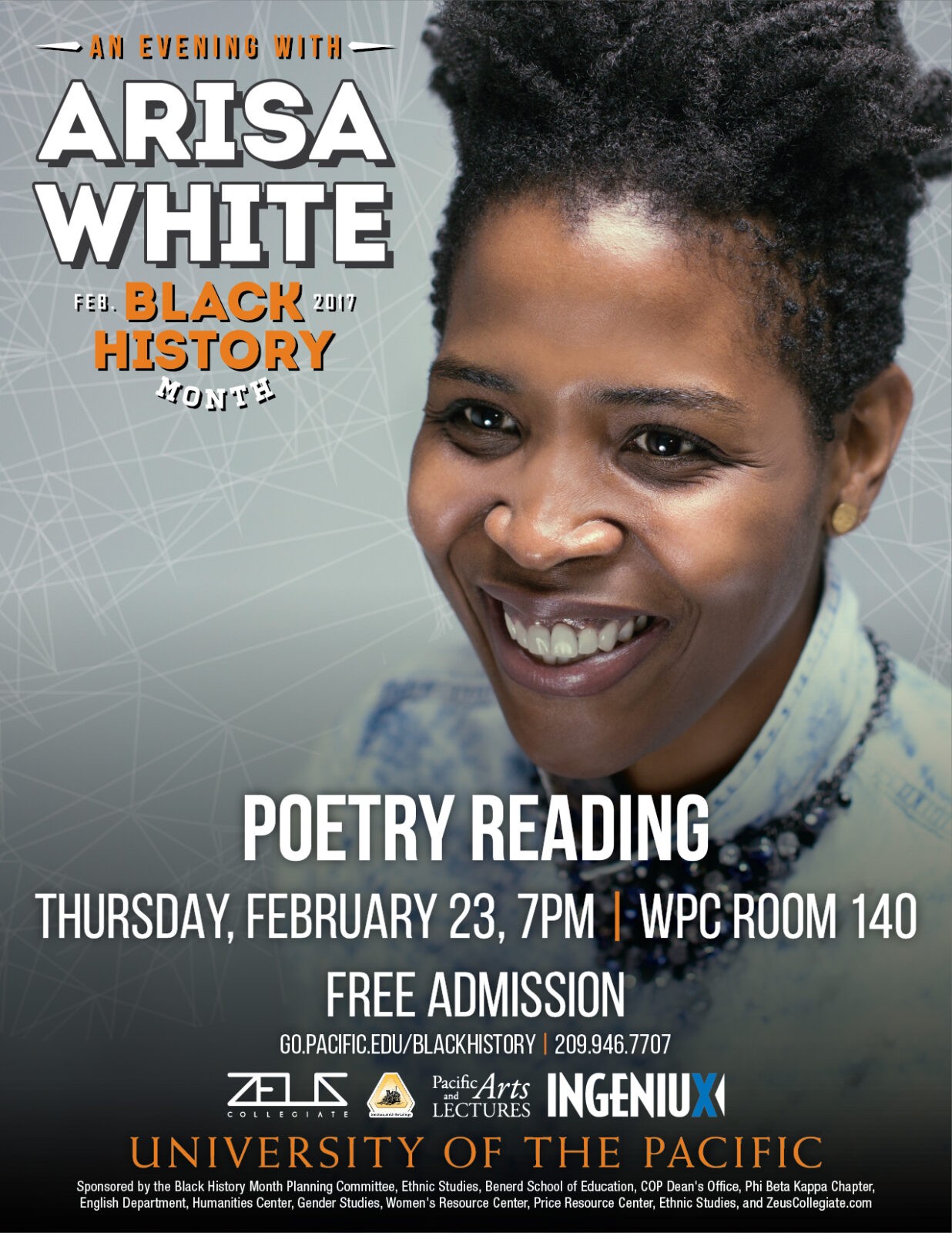 Sunday, March 5, 12pm-3pm, Free; InterGenerational Queer Mixer, Pacific Center, 2712 Telegraph Avenue, Berkeley, CA 94705. Reserve here.
Sunday, March 5, 5-7pm, FREE. A Reading & Performance with the four recent ELEVATE residents Alex Cruse, Andrea Abi-Karam, Lara Durback, and Arisa White. California College of the Arts, MFA Writer's Studio, 195 deHaro, San Francisco, 94107.
Thursday, March 9, 2017, 5:30PM-6:30PM, An AfroSurreal Reading, featuring Lyndsey Ellis, Nazelah Jamison, Raina Leon, and Arisa White. Presented by The Bureau of AfroSurrealist Research, hosted by Nomadic Press Uptown, 2301 Telegraph Ave, Oakland 94612
Wednesday, March 22, 2017, 7:30-8:30pm, Reading at Saint Mary's College of California, Hagerty Lounge, De La Salle, 1928 Saint Mary's Road, PMB 4686, Moraga, CA 94575
CHECK THIS OUT!

****
I've received a $6000 grant from the Beloved Community Fund, offered by the Akonadi Foundation in Oakland, to collaborate with photographer Nye' Lyn Tho to create Natural Heir: The Arisa White Extension. The collaboration will involve queer black and trans women, responding to poetry from You're the Most Beautiful Thing That Happened, and Nye will graphically manipulate their hair with images from my poetry. Here is an example from Nye's series Natural Heir: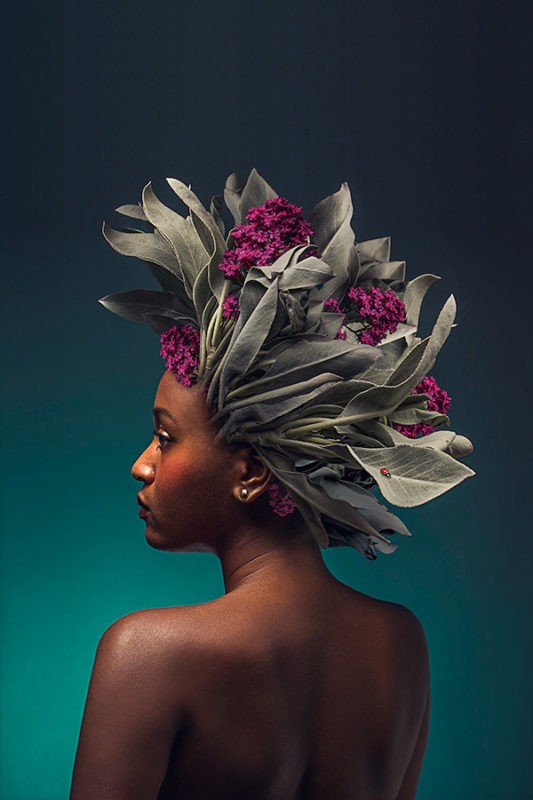 ****
You're the Most Beautiful Thing That Happened was long-listed for the 2016 Julie Suk Award!
****
Videos from the Pat Parker Tribute at the San Francisco Public Library, in celebration of Parker's collected work published by Sapphic Wisdom:
****
For the month of October 2016, You're the Most Beautiful Thing That Happened was on a Poetic Book (Blog) Tour. These were the tour stops:
Oct. 4: Diary of an Eccentric (Guest Post)
Oct. 8: Everything Distils Into Reading (Review)
Oct. 14: The Chronicles of Chaos (Review)
Oct. 17: Eccentric Everything (Review)
Oct. 18: Jorie Loves a Story (Review)
Oct. 20: Suko's Notebook (Review)
Oct. 24: Melissa Firman (Review)
Oct. 25: Peeking Between the Pages (Review & Giveaway)
Oct. 26: True Book Addict (Review)
Oct. 28: True Book Addict (Guest Post)
****
The Michelle Meow Show interviews me about You're the Most Beautiful Thing That Happened
****
Rachael Herron interviews me for her podcast How Do You Write?
****
hocTok features new poems and an interview
"We believe Arisa White's writes remarkable poems that awaken the mind to think and see clearly experiencing the world without falling prey of the modern myths such as money, race, gender, not allowing us to become conquerable, corruptible."
****
Augury Books has two compelling forthcoming books: Sara Schaff's Say Something Nice About Me, a collection of "darkly beautiful (and often quite funny) stories of modern love, families, and heartbreak"; and Arisa White's you're the most beautiful thing that happened, whose poems—which take "their titles from words used internationally as hate speech against gays and lesbians"—" rework, reenvision, and reembody language as a conduit instead for art, love, and understanding."
****
Arisa White reads A is for Angela from Rad American Women A-Z
Check out this amazing video series that City Lights Bookstore is doing. Different rad Bay Area women reading from the book and discussing what it means to be a rad woman.
**** 
What is Literary Activism?
This question was posed by Amy King, and she invited many fabulous poets, myself included, to help her come up with some answers. Check out the collective conversation, here, at the Poetry Foundation.