UPCOMING APPEARANCES
Saturday, December 2, 2017, 6pm; Free. Babylon Salon Winter Reading: Achy Obejas, Arisa White, Barbara Jane Reyes, Laurie Ann Doyle, Kate Folk. The Armory Club, 1799 Mission Street, San Francisco, CA. http://www.babylonsalon.com/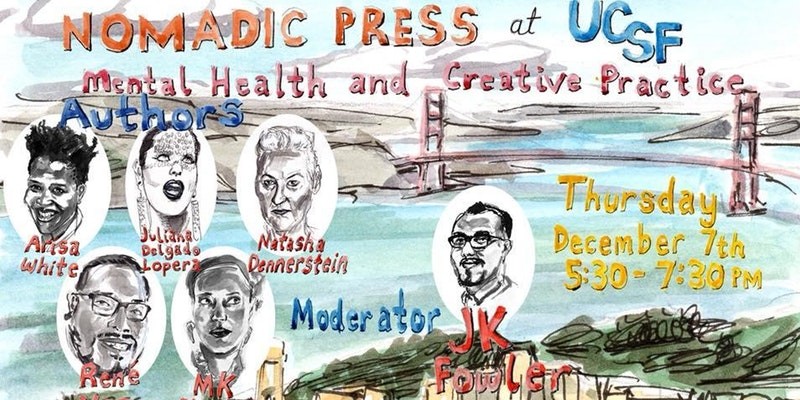 Thursday, December 7, 2017, 5:30-7:30pm; Free. Nomadic Press at UCSF: Mental Health and Creative Practice. Join Nomadic Press authors Arisa White, Juliana Delgado Lopera, Natasha Dennerstein, Mk Chavez, and René Vaz as they lead workshops in the following: Out of Mind, Into Body: Somatic-based Writing Techniques; Queers Rewrite: Intersectional Identities and Mental Health; Owning My Diagnosis: Writing As a Person Living with Depression/ Schizophrenia/Bipolar; PTSD and Decolonizing Trauma; Self-care Toolkits; Writing As Confession: Insertion of the "I" and "Me" as Resistance. UCSF's Milberry Union Event and Meeting Center, 500 Parnassus Avenue, San Francisco, CA 94122. https://www.eventbrite.com/e/nomadic-press-at-ucsf-mental-health-and-creative-practice-tickets-39762903916?aff=es2
Thursday, December 14, 2017, 7pm. The Crow Show featuring Arisa White & Cassandra Dallett. La Val's Subterranean Theatre, 1834 Euclid Avenue, Berkeley, CA 94709. https://www.facebook.com/events/195045774389199/
PAST APPEARANCES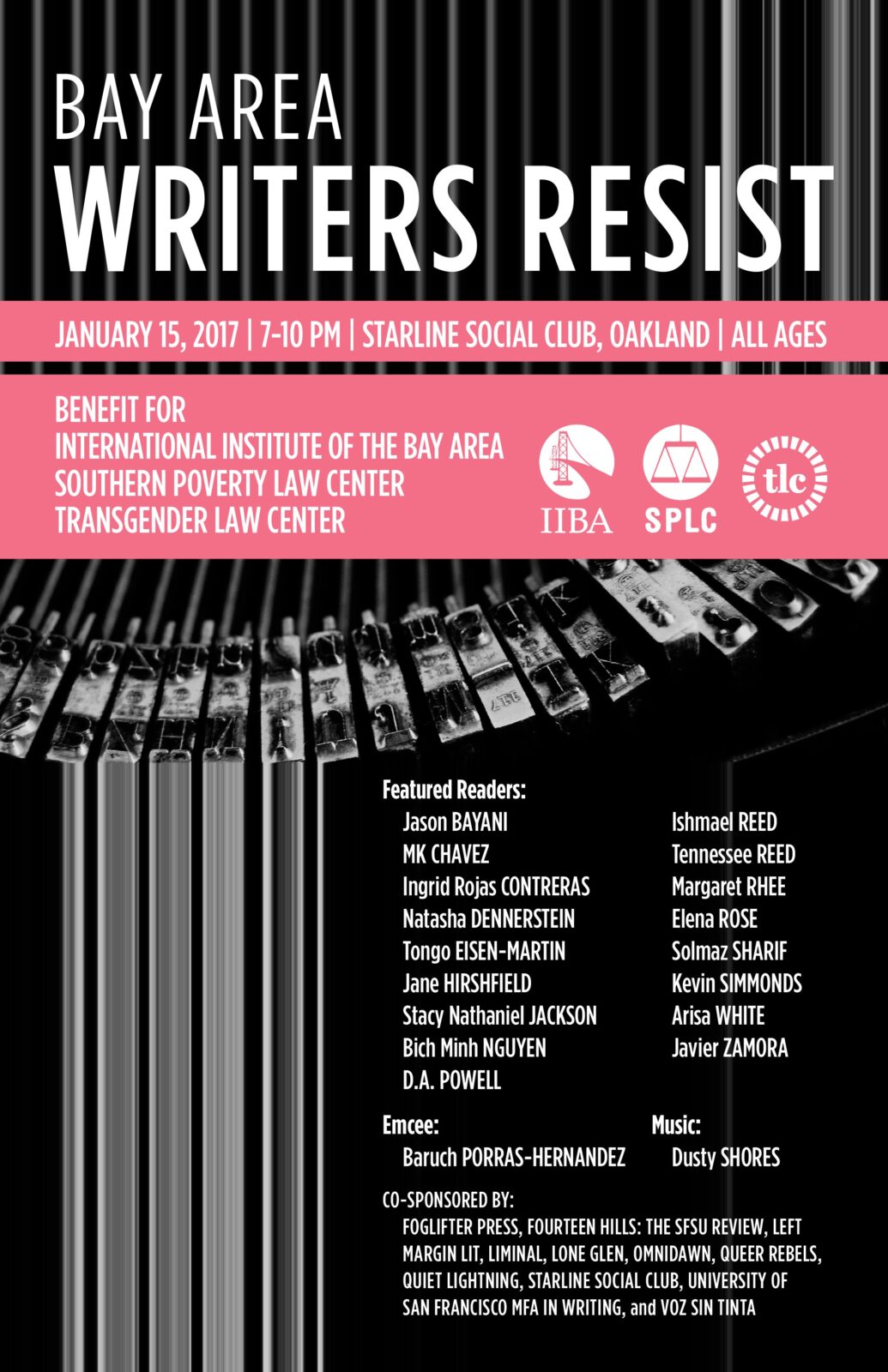 Sunday, January 15, 2017, 7-10PM, Bay Area Writers Resist, Starline Social Club, 2236 Martin Luther King Jr Way, Oakland, California 94612. A night of readings and recommitment to democracy. This event is a benefit for International Institute of the Bay Area, Southern Poverty Law Center, and Transgender Law Center. www.facebook.com/events/1879182968971703/
Tuesday, January 17, 2017, 7-8PM, Queer Words, Folio Books, 3957 24th St. San Francisco, CA 94114. A lineup of local Queer poets and prose-sters: David Hathwell, Richard Loranger, Natasha Dennerstein, and Arisa White. http://foliosf.com/events/
Saturday, January 21, 6:30-9PM, Literary Experiment: Identity Crisis, Octopus Literary Salon, 2101 Webster St @ 22nd, Oakland, California 94612. The social and literary experiment IDENTITY CRISIS, hosted by Paul Corman-Roberts and Youssef Alaoui. Each person reads the next in line. The last person reads the first person's work. No one reads their own. www.facebook.com/events/124363654723640/
Wednesday, January 25, 2017, 7-9PM, $5/10, 21+, A Reading With Arisa White, Natasha Marin, Anastacia Tolbert, and Naa Akua, Fred Wildlife Refuge, 127 Boylston Ave E, Seattle, WA 98102 hugohouse.org/event/reading-arisa-white-anastacia-tolbert-natasha-marin-naa-akua/
Sunday, February 12, 2017, 9a & 11a Services, Performing Black Pearl: Love is Alive with Derek Lassiter, Amber McZeal, and Tammy L. Hall at Heart and Soul Center of Light, 1001- 42nd Street, Suite 100; Oakland, CA 94608
Wednesday, February 15, 2017, 2:30PM. Craft Talk: Queer Imaginary: A Black Female Aesthetic; Hagerty Lounge, De La Salle, Saint Mary's College of California, MFA in Creative Writing, 1928 Saint Mary's Road, PMB 4686, Moraga, CA 94575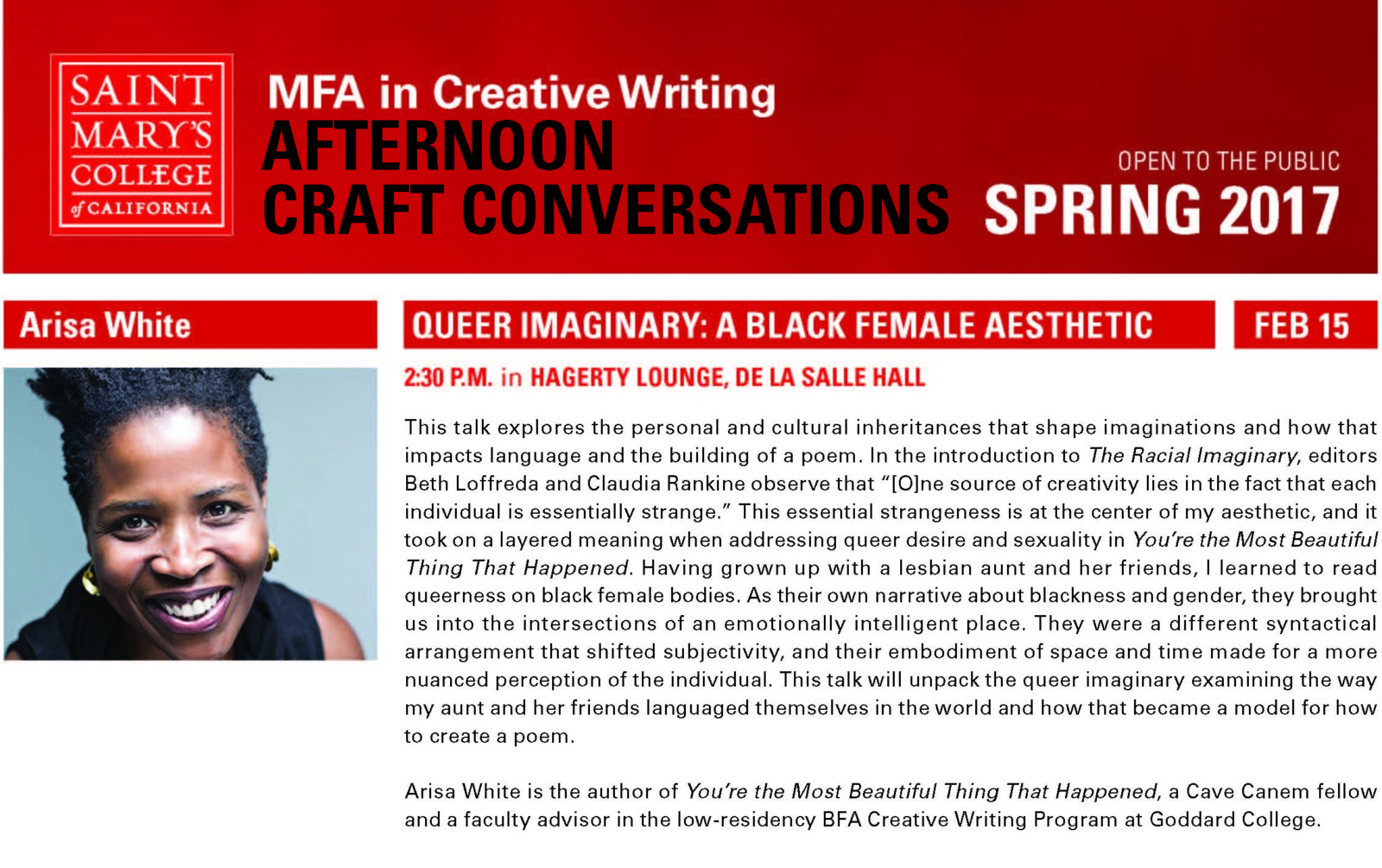 Friday, February 17, 2017, 6:30-8:30PM, Portland State University, Smith Memorial Student Union, Room 294, 1825 SW Broadway, Portland, OR. www.pdx.edu/creative-writing/readings-events   (RESCHEDULED)
Thursday, February 23, 2017, 6:30PM-8:30PM, University of the Pacific, Wendell Phillips Center, Room 140, 1000-1070 Stadium Dr., Stockton, CA. calendar.pacific.edu/event/an_evening_with_arisa_white_poetry_reading#.WJjOgI7If8c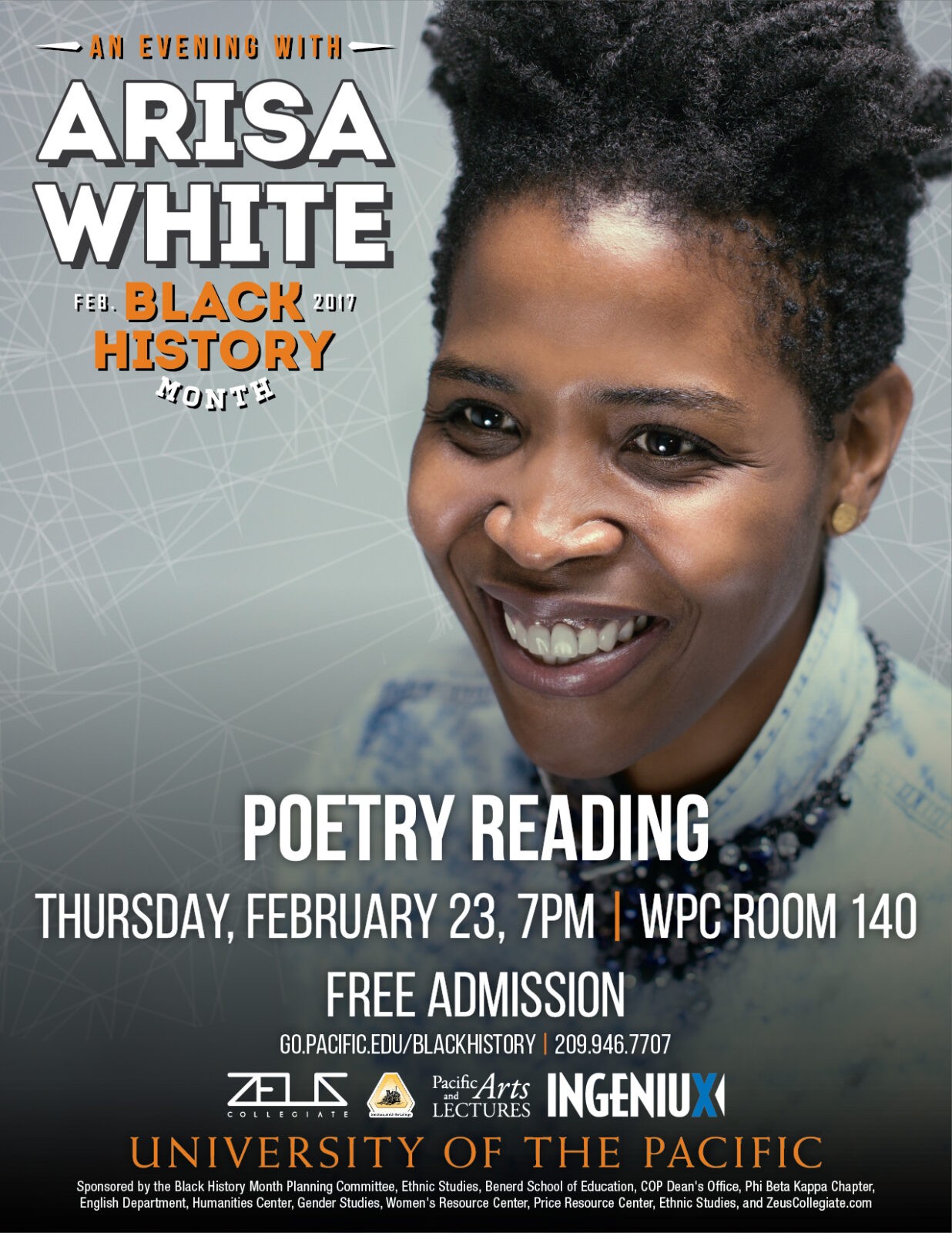 Sunday, March 5, 12pm-3pm, Free; InterGenerational Queer Mixer, Pacific Center, 2712 Telegraph Avenue, Berkeley, CA 94705. Reserve here.
Sunday, March 5, 5-7pm, FREE. A Reading & Performance with the four recent ELEVATE residents Alex Cruse, Andrea Abi-Karam, Lara Durback, and Arisa White. California College of the Arts, MFA Writer's Studio, 195 deHaro, San Francisco, 94107.
Thursday, March 9, 2017, 5:30PM-6:30PM, An AfroSurreal Reading, featuring Lyndsey Ellis, Nazelah Jamison, Raina Leon, and Arisa White. Presented by The Bureau of AfroSurrealist Research, hosted by Nomadic Press Uptown, 2301 Telegraph Ave, Oakland 94612
Wednesday, March 22, 2017, 7:30-8:30pm, Reading at Saint Mary's College of California, Hagerty Lounge, De La Salle, 1928 Saint Mary's Road, PMB 4686, Moraga, CA 94575
Sunday, April 2, 2017, 8PM, Reading with Arisa White and Emerson Whitney, Goddard College, 123 Pitkin Rd, Plainfield, Vermont 05667
Tuesday, April 18, 2017, 5:30PM-8PM, Lambda Literary Finalists Reading, San Francisco Public Library, 100 Larkin Street, San Francisco, CA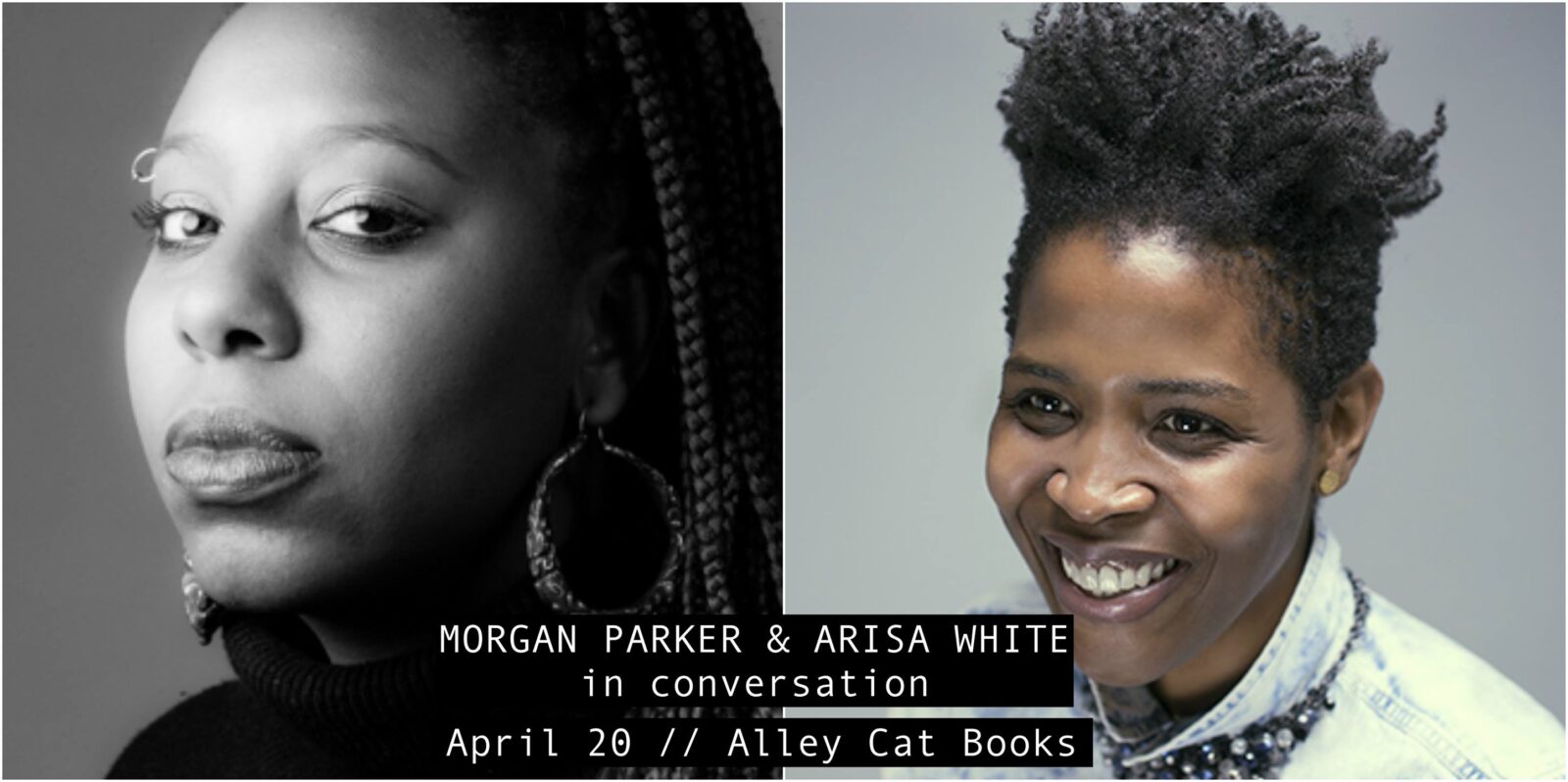 Thursday, April 20, 2017, 6:30PM-8:30PM, Conversation With Morgan Parker and Arisa White, presented by Radar Lit Productions at Alley Cat Books, 3036 24th St, San Francisco, CA 94110
Saturday, April 22, 2017, 7:30PM-8:30PM, Talk: Queer Imaginary: A Black Female Aesthetic, Pegasus Books Downtown, 2349 Shattuck Ave, Berkeley, California 94704  https://www.facebook.com/events/218950288587308/
Thursday, April 27, 2017, 7PM-8:30PM, Literary Speakeasy Presents Poetry & Martinis: A National Poetry Month Celebration, Martuni's Martini Lounge, 4 Valencia St, San Francisco, CA 94103   https://www.facebook.com/events/290369548052981/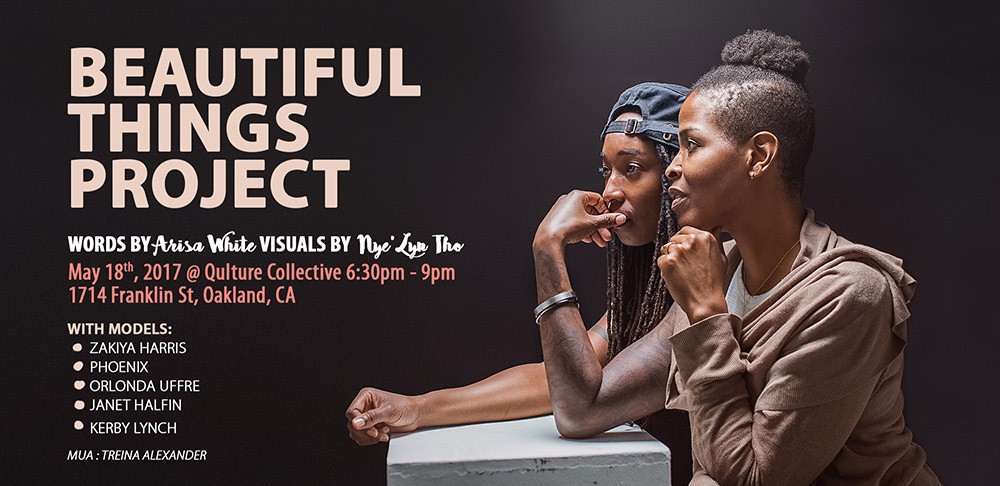 Thursday, May 18, 2017; 6:30-9pm. Beautiful Things Project presents Natural Heir: The Arisa White Extension. Exhibition of the photographic collaboration with Nye Lyn Tho, Q&A, drinks and light refreshments served. Qulture Collective, 1714 Franklin St, Oakland.
Sunday, May 21, 2017; Oakland Book Festival, Oakland City Hall and Frank Ogawa Plaza. More info coming soon
Monday, May 22, 2017; 7:30pm. Amber Flame and Arisa White in Conversation. The Booksmith, 1644 Haight St, San Francisco. booksmith.com/event/booksmith-presents-amber-flame-warisa-white-ordinary-cruelty
Saturday, June 3, 2017; 3:15-4:30pm. Bay Area Book Festival: "State Lines: California New Poets," with Rebecca Gaydos, C.S. Giscombe, Jacques Rancourt, Mai Der Vang, and Arisa White, with John McMurtrie introducing. David Brower Center – Tamalpais Room, 2081 Center Street, Berkeley, CA. baybookfest.org/2017-schedule
Friday, June 16, 2017, 7-9pm. Inkwell Reading Series. Alley Cat Books, 3036 24th St, San Francisco, CA
Wednesday, June 21, 2017; 7:30-9pm. Juniper Summer Writing Institute Reading Series with Amy Leach, Lydia Millet, and Arisa White. University of Massachusetts, Amherst. umass.edu/juniperinstitute/#/institute/reading
Wednesday, June 28, 2017; 7-8:30pm. Perfectly Queer East Bay with Baruch Porras-Hernandez, Shelley Wong, Thea Matthews and Mk Chavez. Nomadic Uptown, 2301 Telegraph Ave, Oakland, CA 94612
Tuesday, July 11, 2017; 12:30-1:30pm: Poetic Tuesdays! Lines and lyrics from Litquake Nation! Enjoy line breaks during your lunch break, as some of the Bay Area's best poets and musicians share their work in the great outdoors. Featuring Brian Dempster, Charif Shanahan, Matthew Siegel, Arisa White, and music by Eki Shola. Esplanade, Yerba Buena Gardens, Mission St. between 3rd & 4th Sts., San Francisco, CA.

Friday, July 14, 2017; 7:00-8:30pm. Poetry reading and book signing for t'ai freedom ford and Arisa White. Hosted by Regina's Door, 352 17th St, Oakland, CA 94612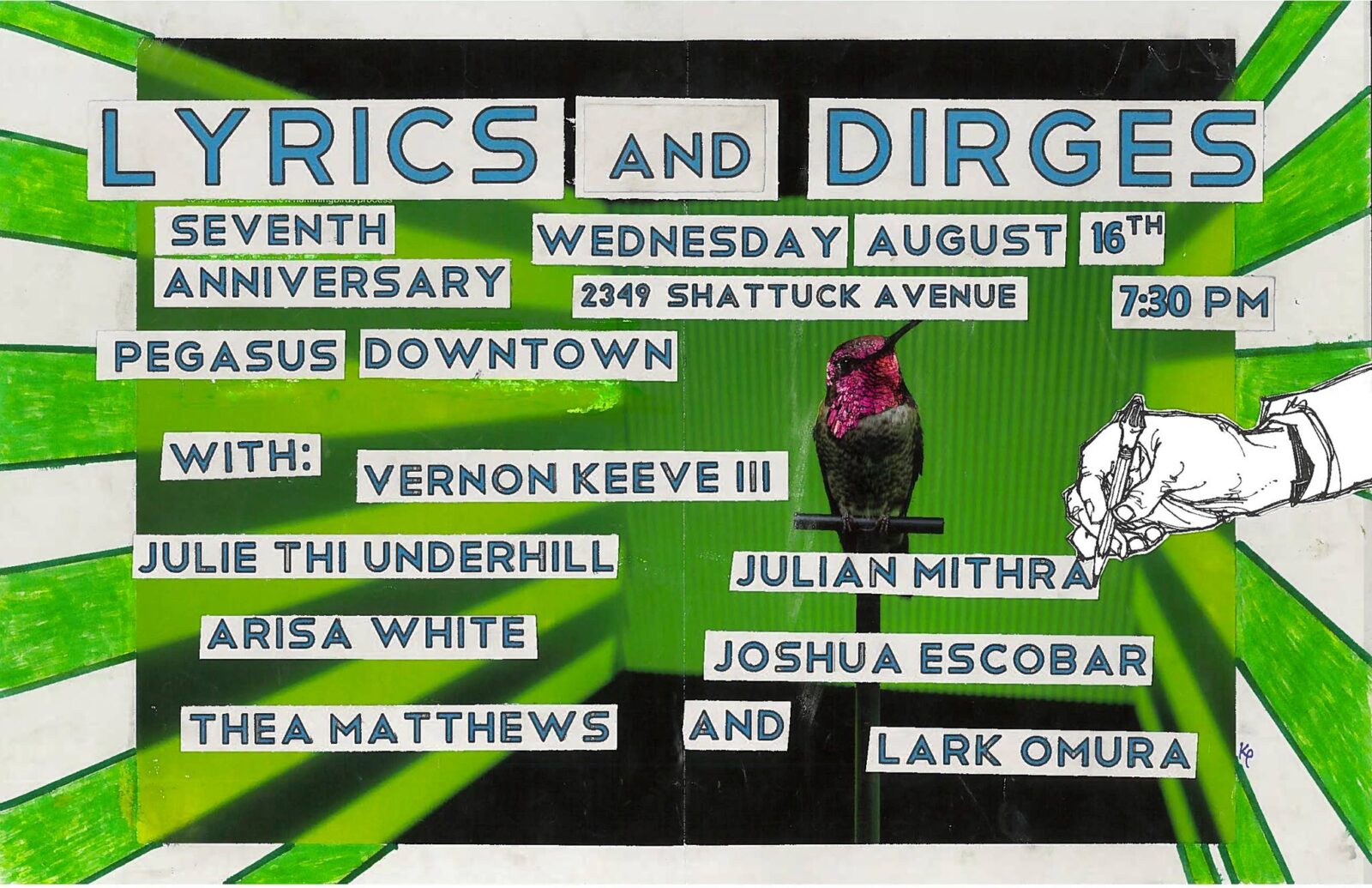 Wednesday, August 16, 2017; 7:30pm. Lyrics & Dirges: Lucky Seventh Anniversary. Hosted and curated by the sparkling duo: Mk Chavez and Sharon Coleman, featuring Vernon Keeve III, Julie Thi Underhill, Arisa White, Julian Mithra, Thea Matthews, Joshua Escobar, Lark Omura. Pegasus Books Downtown, 2349 Shattuck Ave, Berkeley, California 94704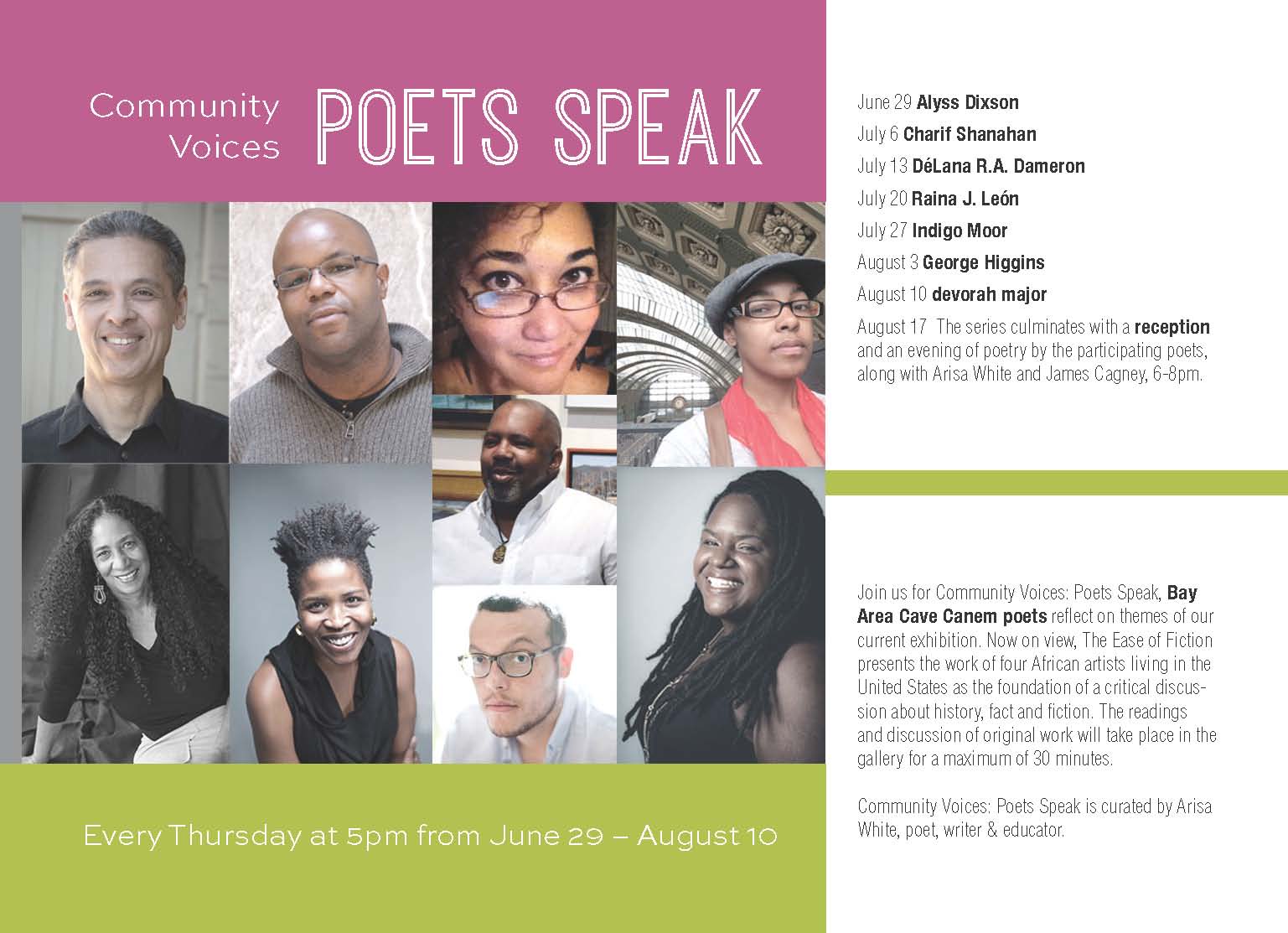 Thursday, August 17, 2017; 6:30-8pm. Free admission. Community Voices: Poets Speak, Bay Area Cave Canem poets reflect on themes of MoAD's current exhibition The Ease of Fiction. This is the culminating event for the series, featuring poets James Cagney, Arisa White, Alyss Dixson, Raina J. Leon, and Indigo Moor.  Museum of the African Diaspora, 685 Mission St (at 3rd), San Francisco, CA 94105. www.moadsf.org/event/community-voices-poets-speak-8/?instance_id=13938
Friday, September 15, 2017, 6pm: White Noise/Black Masks: A Sonic Installation & Poetry Reading, featuring James Cagney, Nancy Johnson James, Michal MJ Jones, Arisa White, and Marvin K. White; Berkeley Art Museum & Pacific Film Archive, 2155 Center St, Berkeley, CA 94720
Saturday, September 16, 2017, 7pm: Poets Allison Cobb & Arisa White; E.M. Wolfman Books, 410 13th Street, Oakland. wolfmanhomerepair.com/event/2017/9/16/poets-allison-cobb-and-arisa-white
Saturday, October 7, 2017, 7:30-9:30pm: Arisa White Salon at Mr. Sophie's Place, 4805 Fairfax Ave, Oakland 94601
Friday, October 13, 2017, 6-8pm; $5 suggested donation: LitQuake & The Oakland Public Library Presents Lit By the Lake, featuring Aya de Leon, Meredith Jaeger, Elizabeth Rosner, Shanthi Sekaran, and Arisa White. Main Library, 125 14th Street (1st Floor Study Area), Oakland. www.oaklandlibrary.org/litquake2017
Saturday, October 14, 2017, 5-6pm: Lit Crawl San Francisco with Cave Canem Poets Chiyuma Elliott, Natalie Graham, Cynthia Manick, and Anastasia Renee Tolbert, hosted by Arisa White; Valencia Gardens Community Room, 390 Valencia Street, San Francisco
Thursday, October 19, 2017, 7-9pm: Let's Talk: Arisa White and Europa Grace, discussing our collaboration on Beautiful Being, a Beautiful Things Project. Pro Arts Gallery, 150 Frank Ogawa Plaza, Oakland
Friday, October 20, 2017, 6:30pm: Arisa White: Poetry Reading, Portland State University, Smith Memorial Student Union, Room 294, 1825 SW Broadway, Portland, OR. www.pdx.edu/creative-writing/readings-events
Thursday, November 9, 2017, 6:30pm: Poetry Reading by Arisa White, Truman State University, Baldwin Hall, 100 E. Normal Avenue, Kirksville, MO 63501. http://www.truman.edu/events/poetry-reading-arisa-white/
Thursday, November 16, 2017, 7:30pm; $15. Cafe Du Nord: Neil Hilborn & Arisa White. 2174 Market Street, San Francisco, CA 94114. https://www.swedishamericanhall.com/event/neil-hilborn
CHECK THIS OUT!
Amanda Woytus interviews me for her podcast, Life TK, which focuses on women professionals and the work they did in their twenties. I discuss my early days as an arts coordinator—wrangling dancers and writing poems on command—the magic of collaboration (and the one that didn't quite work at first), what it's like to be an opera librettist, projects that are daunting throughout the entire process, and finding inspiration in the childlike question of "Why?"
Listen here: https://www.lifetk.com/episodes/2017/10/2/6-fear-and-doubt-at-every-stage
****
A Winner!
My chapbook "Fish Walking" And Other Bedtime Stories for My Wife was selected by Daniel Handler for the inaugural Per Diem Chapbook Prize. Read the announcment on LitHub: lithub.com/daniel-handler-announces-the-winners-of-the-inaugural-per-diem-poetry-prize/.
****
****

****
Videos from the Pat Parker Tribute at the San Francisco Public Library, in celebration of Parker's collected work published by Sapphic Wisdom:
****
For the month of October 2016, You're the Most Beautiful Thing That Happened was on a Poetic Book (Blog) Tour. These were the tour stops:
Oct. 4: Diary of an Eccentric (Guest Post)
Oct. 8: Everything Distils Into Reading (Review)
Oct. 14: The Chronicles of Chaos (Review)
Oct. 17: Eccentric Everything (Review)
Oct. 18: Jorie Loves a Story (Review)
Oct. 20: Suko's Notebook (Review)
Oct. 24: Melissa Firman (Review)
Oct. 25: Peeking Between the Pages (Review & Giveaway)
Oct. 26: True Book Addict (Review)
Oct. 28: True Book Addict (Guest Post)
****
The Michelle Meow Show interviews me about You're the Most Beautiful Thing That Happened
****
Rachael Herron interviews me for her podcast How Do You Write?
****
hocTok features new poems and an interview
"We believe Arisa White's writes remarkable poems that awaken the mind to think and see clearly experiencing the world without falling prey of the modern myths such as money, race, gender, not allowing us to become conquerable, corruptible."
****
Arisa White reads A is for Angela from Rad American Women A-Z
Check out this amazing video series that City Lights Bookstore is doing. Different rad Bay Area women reading from the book and discussing what it means to be a rad woman.
****
What is Literary Activism?
This question was posed by Amy King, and she invited many fabulous poets, myself included, to help her come up with some answers. Check out the collective conversation, here, at the Poetry Foundation.